Imagine the possibilities.
A silent violin allows you to practice anywhere and anytime.
You can practice the violin when it suits you. Not when it suits your family, your roommates, or your neighbors.
But what is a silent violin exactly. How can you play without creating a sound?
More importantly, are silent violins any good?
Or will getting one simply hamper your efforts to learn the violin?
Keep reading to learn everything you need to know about the silent violin.
What Is A Silent Violin?
A silent violin is basically just an electric violin with a headphone jack (so pretty much all of them). The difference between an electric violin and a regular one is that it allows you to turn down the volume, so only you can hear it.
Since you can also use it without an amplifier, it is a great option if you want to play in silence, without disturbing the neighbors or other household members. This means you can practice at any time, including at night.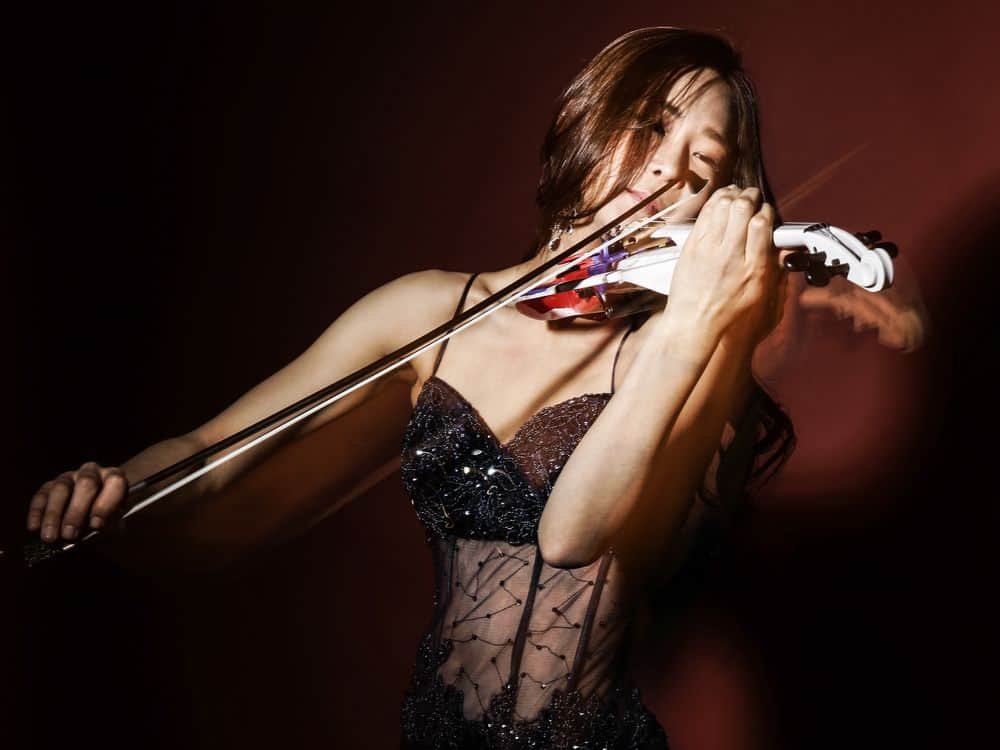 That's a brief description of an electric violin, which is basically what a silent violin is. At this point, it makes sense to get into a bit more detail.
The Electric Violin
The first appearance of the electric violin dates back to the 1920s, approximately. This coincides with electric guitars.
We owe the adaptation of an electric system to the violin to the American violinist Stuff Smith, who specialized in jazz and blues. He began to introduce pickups and amplifiers in his violins for his performances.
The electric violin is a violin equipped with a sound amplification system inside. From a certain point of view, you could say the electric violin is an evolution of the traditional violin.
This type of violin does not need a resonance chamber with holes in the violin to emit sound, since they produce sound electronically.
The introduction of the electrified violin led to the instrument's use in other musical genres, like rock or heavy metal. It also led to the creation of new sound effects with the violin, thanks to effect pedals.
Semi-Electric Violin
This is a hybrid between the acoustic and the electric violin. You can use it with or without an amplifier and maintain a greater sound similarity to the standard violin.
Advantages Of Silent And Electric Violins
An electric violin has many advantages over a traditional violin. But it also, perhaps, eliminates a bit of that "magic" of classic stringed instruments, made by old luthiers.
Overall, on a technological level, the electric violin offers many different advantages. Most importantly, you can play an electric violin without disturbing, and you can create new types of sound.
The popularity of electric violins is on the rise all over the world. Here are the biggest reasons why:
It allows you to play silently, and therefore to practice without disturbing others.
You can connect them to Bluetooth or traditional headphones.
They also work well on stage, because they are immune to the "echo effect" at high volumes.
They are beautiful and contemporary.
They allow you to play in many musical genres, and not be limited to classical and orchestral music.
They can house sound cards with a history of your favorite music.
They have batteries that allow up to 3 days of autonomy.
Types And Models Of Electric Violins
There are many types of electric violins on the market, structured and designed according to different preferences and needs.
For example, there are models in wood (reminiscent of classic violins, refined and traditional), in solid wood, or made of Kevlar, carbon fiber, or fiberglass.
The colors range from the traditional ones of a classic violin all the way to new, expressive ways of design, with bright or pastel tones.
Which type of violin is best also depends on the type of music you want to play. For those who love classical music, a traditional model is better. Those who are oriented towards the blues, rock, or electronic music can get a lot more creativity from an electric violin.
Important Features When Choosing An Electric Violin
If you have decided to get a silent violin, or any other type of electric violin, here are the most important features to look at when deciding between different models.
Electronics
It is very important to examine the quality of these components before completing any purchase. The electric violin works thanks to a pick-up that allows amplification.
The choice of the components used in the electronic part of the instrument depends above all on the intended use: if the violin is to be played on stage, perhaps together with a musical synthesizer, more sophisticated elements will be needed to raise the volume, while excluding hum and interference.
If, on the other hand, the violin is intended for practice and home use, or in some other confined environment, you can choose an instrument with cheaper electronic components.
Silent violins also include an in-ear, over-ear, or on-ear headphone jack, a super convenient way to play even in the middle of the night.
Quality Of The Material
A good violin made of fine materials will last a long time. Higher quality materials also help the sound quality and make practice exercises easier and better.
A good violin has not only quality components but also a correct overall architecture, with the right distance between the bridge and the strings or the fingerboard.
There is always a level of quality below which you cannot go, even if the instrument is purchased for amateur purposes.
To choose the ideal electric violin according to your needs, just contact a salesman and get help, without being afraid to spend as much as needed. Make sure you pair it with the best electric violin strings to get the most out of your instrument.
Ergonomics
The electric violin can be considered an evolution of the violin, but it is essential that there is something in the design, in the structure, or in the architecture that gives the idea of ​​playing a classical violin.
The chin rest, the shoulder rest on the violin, the strings, the bridge, everything must have the right proportions to adapt perfectly to the violinist's body, especially if it is a child who wants to start playing.
An ideal electric violin doesn't have to be too heavy either, in order to avoid putting weight on the violinist. Make sure you have found an efficient, complete, quality tool that is also light and easy to handle.
Cost Of An Electric Violin
Obviously, the price of the instrument fluctuates depending on the quality of the software and mechanical components. There are electric violins that cost less than 100 dollars and models that touch 2,000, exactly as happens, for example, with the various types of classical or acoustic guitars.
What you need to do is understand the destination and the path you want to take. If you are just starting, you can settle for a low-cost violin, and then eventually upgrade the model after a bit of practice. If you wish to practice in silence, the silent violin is your best bet.
Silent Violins: Final Thoughts
Now we know that the silent violin is really just an electric violin. But that's not a problem.
The electric violin may not appeal to purists, but just like the electric guitar, it takes the acoustic version of the instrument an revolutionizes it.
Not only can you play quietly using headphones, but you can also get incredibly creative, with tons of effects, like delays, distortion, and anything else you've heard done on an electric guitar.