The electric violin is growing in popularity.
Although "unconventional," it finds many uses in a variety of different genres. And there are more and more models on the market as a result.
While the abundance of different products is great, it can make it difficult to find the right instrument for your needs. Especially if you have a limited budget.
There are very few budget electric violins that are any good. Most are completely useless.
The Cecilio CEVN-2 is the lowest cost electric violin that is worth getting.
It's not professional-level violin by any means, but it gives you a decent sound. It is more than you'd expect, given the price.
Read our complete review below to find out if this is the right violin for you, or if you'd be better off spending a bit more.
Cecilio CEVN-2 Review: Overview And Features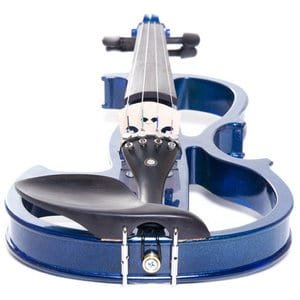 Cecilio designed the CEVN-2 as a beginner violin. This does not make it bad by any means, it's just that it's a "stripped down" electric violin with only the essential features and nothing more.
But you might not realize this at first glance. It actually looks like a far more expensive instrument. It has the classic design for electric violins, with the main body consisting of a frame that mimics the shape of a traditional violin.
Of course, this is just an aesthetic feature and makes little to no impact on the tone since the open body frame does not really resonate. The signal of the strings is picked up by a piezo pickup and then amplified through the integrated preamp.
The preamp and piezo pickup system used is the HVPV-30, which is common in Cecilio electric violins. While the pickup and preamp are not bad, there are some minor downsides.
First, there's only a volume and tone knob. The violin could definitely use at least a 2-band EQ instead of a simple tone knob.
Another problem is that all the outputs on it are 1/8-inch jacks, not 1/4-inch ones. That said, you do get a 1/8 to a 1/4-inch cable. There are separate outputs for amplifiers and headphones.
The positioning of the controls is a bit weird as well, but it's definitely not a deal breaker.
While this sounds like a lot of issues, they are minor pretty standard for an entry-level electric violin. Overall, the tone is decent and this violin is actually a pretty great deal for the money. We chose it as the best budget electric violin in our article comparing the top electric violins on the market.
Aside from the 1/8 to a 1/4-inch cable, the instrument also comes with a soft case, a bow, a rosin cake, and a headphone set.
Key Features
Basic electric violin design
HVPV-30 preamp and piezo pickup system that runs on one 9-volt battery
Controls for volume and tone
1/8-inch outputs for amps, mixers, and headphones
Comes with a soft case, bow, rosin cake, a cable, and headphones
Performance
The most striking thing about Cecilio's CEVN-2 violin is how well it performs, given the price level. The instrument is relatively light for an electric violin and it feels pretty good in your hands. Even the virtuosic faster runs and lead sections are easy to pull off on this violin.
Of course, it's definitely not the same feel of some advanced high-end electric violins, but that's an expected sacrifice for a budget instrument. If you're a beginner or just an amateur player who wants to have some fun and not spend too much, then the CEVN-2 is the perfect choice.
The main downside is the positioning of the preamp, which is on the backside of the instrument. This can be kind of weird if you're trying to adjust something midway through your performance. It's not a huge problem, but it can be a bit bothersome.
Tone
While the tone is definitely not bad, especially considering the price, it doesn't always bring out all of the expected qualities. It would be nice if it had a bit more dynamic sensitivity. However, it sounds pretty good for a cheap violin and it works fairly well when plugged into electric guitar amps and effects.
Advantages And Disadvantages
Pros
Cheap, great deal for the price
Good-looking design
Feels great
The sound is decent
Cons
More detailed controls could definitely be useful
It only has 1/8-inch outputs, which is unusual for an electric instrument
Cecilio CEVN-2 Vs Bunnel EDGE
There are many similar violins to be found in the beginner to intermediate category (though none quite an inexpensive). One of those is the Bunnel EDGE, which is another great option. However, it's about double the price, but there are a few important reasons for the higher cost.
At first glance, these two electric violins look pretty similar, in terms of look and some of the features. Design-wise, they look similar. They both feel great in your hands, although the Bunnel EDGE is just slightly better.
The biggest difference is the choice of preamplifier and piezo pickup. On the Bunnel EDGE, we have the CV-210E, which provides more detailed controls with a 2-band EQ. In addition, these controls are also more responsive, giving you more sonic and practical versatility.
To put it simply, the Bunnel EDGE sounds a bit better and is more user-friendly than Cecilio's CEVN-2. In addition, you also get a better package with the Bunnel Next, including a quality bow, a hard case, and a better set of headphones for practice.
But this does not make the CEVN-2 a bad instrument at all. It's the "what you pay is what you get" kind of deal. The Cecilio violin is definitely a good value and the better choice if you're on a budget.
But you'll get more versatility and quality from the Bunnel EDGE. It's still not a professional instrument, but it's definitely closer than the Cecilio violin. If you can afford to the cost, the EDGE is the better instrument and also the better value.
Read our full review of the Bunnel EDGE for more on this violin.
Cecilio CEVN-2 Electric Violin: Conclusion And Rating
With the Cecilio CEVN-2, the manufacturer managed to keep the price at a desirable level, without sacrificing any of the essential qualities. It works well, it sounds good, and you could even do some smaller live shows with it.
But obviously, they had to make some sacrifices to keep the price this low. It's far from a professional-grade electric violin, so you can't really expect it to be super reliable in every setting.
But if you just need something to plug into a home stereo or a PA system and practice or just have fun, the CEVN-2 is a great choice.
While this is easily the best budget violin on the market, it can't compete with higher priced options for that reason, it gets a Musicaroo rating of 4 out of 5.