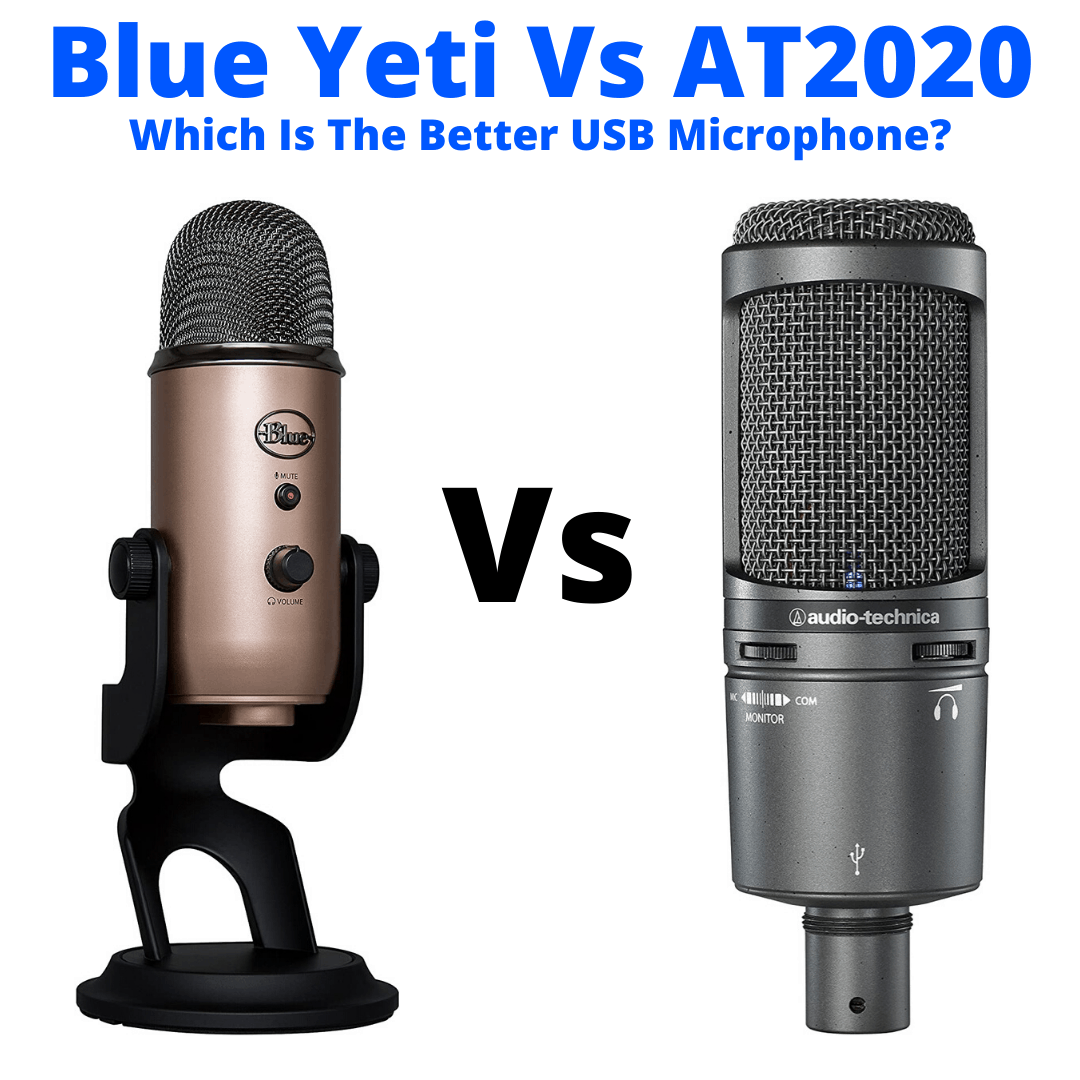 Let's get one thing straight right away.
You can't go wrong with either of these USB microphones.
If you want a mic for broadcasting or recording a podcast, both the Audio Technica AT2020 and the Blue Yeti deliver. They are easily the two best options when it comes to overall value for money.
But which is better?
That is not so easy to answer. Each microphone has its strengths and weaknesses and which one is right for you depends very much on your needs.
For example, the Yeti is more versatile for podcasting. If you want to record music, it falls a bit short. The AT2020, on the other hand, excels at recording music.
That's where this review and comparison comes in. We'll make sense of it all and by the end, you will know which microphone you need.
Let's begin with a brief review of each mic and then compare and contrast them directly, before giving our recommendations for which mic is better for which type of user.
Blue Yeti Review
There are plenty of condenser mics out there for all sorts of uses. But for the longest time, it was nearly impossible to find a simple, yet quality microphone for podcasts.
The Blue Yeti changed that.
It has all the needed functions as well as a great sound for regular speech and for singing. It's no wonder you see so many YouTubers using this mic.
The first thing you'll notice is that it's a fairly weighty mic: somewhere around 4.4 pounds. This is justified since it has a three-capsule construction and is extremely reliable. It's so well built that you don't need to worry about potentially damaging it.
What sets the Blue Yeti apart is obviously that it's a USB microphone. That means it works solely with computers and cannot be used as a conventional mic. It also does analog to digital conversion on its own.
The distribution of frequencies makes its use kind of narrow. Although it covers the entire audible spectrum with its frequency range of 20 Hz to 20 kHz, the Blue Yeti has a bit of a "scooped" frequency response. The mids see a substantial dip with any of the polar pattern settings.
And that brings us to the next great feature. It has four different polar patterns, plus an integrated headphone amplifier.
All of this makes it great for podcasts, live streaming, and recordings of spoken parts. It's not something you'd see in a music studio, but rather something for independent content creators.
Pros
Great for spoken parts and live broadcasts
Built-in headphone amp
Four polar patterns
Great analog to digital conversion
Well-built
Comes with a stand
Available in multiple colors
Cons
Not that good for recording vocals or instruments
It's a bit heavier than usual
Audio-Technica AT2020 Review
Audio-Technica's AT2020 is a bit of a different deal. Yes, it is also a condenser and a USB microphone that's mostly focused on speech and broadcasts.
But the AT2020 is also great for vocal or instrument recording. The XLR version is one of our top picks for the best mic for trumpet recording.
The frequency response is relatively flat, although it has a noticeable peak in the high end, somewhere from 5 kHz to 15 kHz. After that, it drops sharply towards the 20 kHz mark.
Overall, it's a very simple microphone. There are no additional controls or switches on it. It only has one polar pattern, and that's the standard cardioid one.
It features a slightly higher self-noise, somewhere at around 20 dB. It covers the entire audible spectrum, just like Blue Yeti, with anything from 20 Hz to 20 kHz. Its specific tone comes from the addition of a low-mass diaphragm.
It is intended for spoken voice recording and broadcast, but it's also common to have it used for singing or even acoustic instruments or electric instrument amplifiers. If you want to record music directly to your computer, this is the way to do it.
The reason it works well for music is that it has a rather high SPL handling and can take up to 136 dB of noise without any issues whatsoever. To add to all this, it has a pretty great dynamic response, capturing even some slight nuances in broadcasts and recordings. This makes it useful for louder instruments or any other louder settings.
The whole thing is rounded out with a good-looking design and a solid build quality. It weighs somewhere around 1.3 pounds in total, so it's not that heavy. Although it doesn't come with a stand, it's pretty easy to set up for any particular need.
Pros
Good sound quality
Relatively flat frequency response
Useful for spoken parts, broadcasts, as well as singing and instruments
Great build quality
Good deal for the price
Reliable
Cons
Higher self-noise rate
Some additional controls and features could be useful
Differences Between The AT2020 And The Blue Yeti
While they might seem pretty similar at first glance, since they're both condenser mics, the Blue Yeti and Audio-Technica's AT2020 have a few key differences. First, the Blue Yeti features a sample rate of 48 kHz and 16-bit resolution, whereas the AT2020 has a slightly different configuration with 16 bits and a choice of a 44.1 or a 48 kHz sample rate.
The next obvious difference is that the Blue Yeti has four polar patterns, while the AT2020 only has one. While having more polar patterns is nice, we need to consider that four might be overkill for a podcast and streaming mic. The good old standard cardioid pattern will do just fine for these settings and also for home studio recording work.
What's more, the Yeti features a headphone amplifier, which is a bit unusual for a microphone. But it finds widespread use among content creators. It is one of the reasons this mic is so popular among podcasters.
While their range is exactly the same, the Blue Yeti and the AT2020 differ a bit when it comes to the representation of frequencies across the spectrum. While the Blue Yeti is a little "scooped," the AT2020 is pretty flat, with even a slight boost with the mids and a noticeable boost in the higher register.
In the end, the Yeti is mostly focused on regular talk or spoken parts and isn't that great for singing, acoustic instruments, and instrument amplifiers. The AT2020, on the other hand, does well for musical applications, but mostly in amateur or semi-pro settings. Professionals will want to use an XLR mic, not a USB one.
The mics on this list are the best XLR mics for studio work and the ones on this list are best for live performances.
AT2020 And Blue Yeti: Similarities
The biggest similarity is that they were designed for the same primary use: to be a good, reliable broadcasting mic. Although the Blue Yeti might be more popular among content creators, the AT2020 is definitely a great choice as well.
You may need to do more tweaking and EQing with the AT2020, depending on the setting, but both provide great sound quality and are well worth the price.
In addition, they're both condenser mics. This means that they both have a somewhat "wider" capture radius and do really well at getting human speech to sound as realistically as possible. This is something that dynamic mics don't usually do, with the Shure SM7B being a rare exception.
They are also both USB microphones with their own analog to digital converting. Basically, the main commonality between these two microphones is their use as broadcasting or podcast mics and the USB connection with analog to digital converting.
What's Better About The Blue Yeti?
Blue is a company known for their broadcasting USB mics, and they've built quite a reputation among some YouTubers, Twitch streamers, and other content creators. But with the release of the Yeti model, things took off to another level. At this point, Blue Yeti is kind of like an "industry standard" among content creators. It's very reliable and it gives great sound quality.
But what makes it really stand out is its simplicity. All you need is a computer and recording software, and you're ready to go. No special drivers are required, so it's basically a "plug and play" operation. What's more, it also has its headphone jack, so you can do all the monitoring through it. It is kind of like a simplified audio interface within a microphone.
We should also mention the addition of three more polar patterns. These make it useful for some specific settings. Most people will never need them, but if you to plan on using the mic for one of the specific uses that require one of the other polar patterns, it's nice to know you can.
Finally, the Blue Yeti is available in multiple colors, so you are able to personalize the look a bit. You have 13 different colors to choose from: blackout, silver, Aztec Copper, cool gray, lunar gray, midnight blue, platinum, prime red, satin red, slate, space gray, steel red, and whiteout.
What's Better About The Audio-Technica AT2020?
The Audio-Technica's AT2020 is useful for more than just YouTubers and Twitch streamers. Although it has only one polar pattern, its use is far more versatile. Thanks to its frequency response, you can get a good sound for vocals, acoustic instruments, and even electric instrument amplifiers. It's especially great because it can handle higher noise levels up to 136 dB.
Who Should Get The Blue Yeti (Wnd Why)?
As mentioned, the Yeti from Blue is a standard choice for any kind of content creator. While it's hard to get a consensus on this, many consider it the best microphone for YouTubers and podcast hosts.
If you need something like this but don't feel like bothering with preamps, audio interfaces or mixers, then the Blue Yeti is the best choice for you. It's simple, reliable, and has a specific use. That's all you need.
Who Should Get The Audio-Technica AT2020 (And Why)?
There are two main groups that could benefit from a mic like the AT 2020. First, we have the content creators, same as the Blue Yeti. Second are music recording enthusiasts who do not want to set up a full recording studio..
The AT2020 is inexpensive and it works well for both vocals and instruments. More importantly, it records to a computer via USB, so there is no need for additional equipment like mixers, preamps, etc.
But perhaps the ideal customer for the AT2020 is one who is both a content creator and musician. Due to its specific frequency response and its capability to handle louder noise, most notably that coming from instrument amplifiers, it is more than capable of handling both tasks.