Bass guitar fret buzz is incredibly annoying.
The good news is that you can fix it.
The bad news is that the fix is not always easy.
First you need to know what to fix.
And figuring out what is causing your bass to buzz can be a challenge.
The easiest solution is to have a professional set up your bass.
But that costs money.
Keep reading to learn the most common causes of fret buzz on a bass and what you can do to fix each one. If you're lucky, the cause of your buzzing will be easy to determine and easy to fix.
Bass Guitar Fret Buzz
All guitarists have at one point played an instrument that produced a buzzing sound when you pluck certain frets. Aptly named "fret buzz", this annoyance can occur for a variety of reasons.
The most common are low string action, excessive neck arch, a damaged (or downright broken) guitar nut, or even dirty, old strings.
When I was starting to learn how to play guitar, I played on an instrument that was extremely worn, that had been equipped with the same strings for decades, and that had been stored kept in an extremely humid basement from before I was even born.
With all these elements lined up, it shouldn't be a surprise that so many frets were buzzing. My solution to fixing this problem is something I recommend to all beginners who don't know how to tinker with their basses.
Take your buzzing bass to a professional for a setup. If you want to save a bit of money and learn how to tackle fret-buzzing issues at home, I'm going to address some of the most common causes and how to fix them.
Bass Guitar String Buzz Causes And Fixes
The following are the most common causes of fret buzz on a bass guitar. For each cause, I'll also go over how you can fix it and hopefully remedy the string buzz.
Dirty And/Or Rusty Strings
Guitars produce sounds when you press the strings on the frets and pluck them. This process is smooth if the strings are functional, meaning that all of their windings are intact and there's not too much debris on their outer surface.
Circling back to the case of my old guitar, strings that are rusty and haven't been replaced for a while have accumulated dirt, pieces of skin, grease, sweat, and pretty much everything else you don't want to have on thin pieces of copper or steel.
To clarify, strings that are a couple of weeks or months old will almost never cause this problem. It's extreme neglect that can cause enough debris to effectively envelop the string. This debris makes contact with the fret rather than the actual steel, copper, or bronze part of the string.
The simplest and most effective way to fix fret buzz caused by dirty strings is to restring your bass guitar with a new set. You can also try to thoroughly clean the strings with a microfiber cloth. Our article on cleaning guitar strings can help.
To ensure this problem doesn't bother you again anytime soon, I also recommend using a string conditioner, such as Dunlop's Ultraglide.
Damaged Or Displaced Nut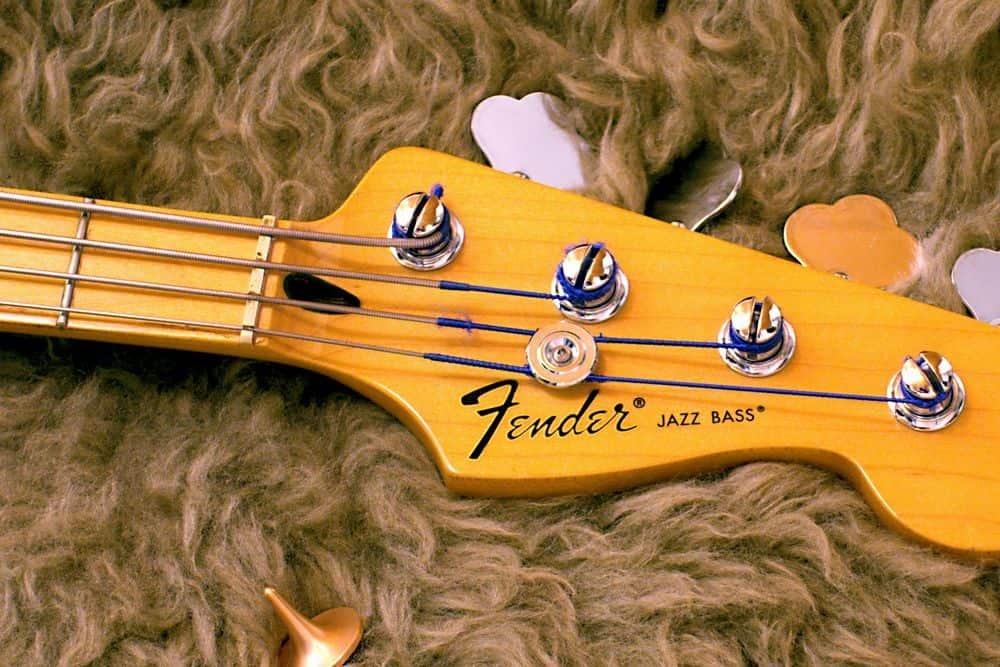 The nut is the small piece that separates the fretboard from the headstock. It features tiny ruts through which the strings run. If the nut is cracked or out of place, it may pull the strings a bit out of their course.
This is extremely apparent for the first fret, although it may not impact all the strings. In my case, when I played a guitar with a dislodged nut, I could pull off simple power chords on the open strings and the first couple of frets on the lowest notes, but my B and high E strings were completely unplayable. This meant that I couldn't play the majority of chords too.
The situation is exactly the same on the bass. Similar to worn-out strings, you should replace broken or damaged guitar nut pieces with a new one. The process is a bit complex, so you should consider taking your bass in for a pro setup.
If you do wish to do it yourself, remove all the strings on your bass guitar, and cut out the edges of the nut with a knife. The nut was likely glued to the headstock, so if you can't get underneath it, you may need to use a hammer to dislodge it completely. I recommend using firm sandpaper to dust off all the residual glue, before placing the replacement nut into the socket.
The hardest part is aligning the new nut with the strings. It needs to be exactly in the same spot as the old one. Once you have found the sweet spot, superglue the nut to the headstock, and your frets should no longer buzz.
Uneven Or Dislodged Frets
Fret bars are placed on the fingerboard to evenly divide the octave. This only works if they're all in the right spot. In other words, if your frets are moving, or if the manufacturer accidentally made them uneven (fractions of an inch matter), they might cause fret buzz.
Dislodged frets are even easier to notice than uneven ones. When you're playing your bass, none of the frets should be moving at all. If you notice that at least one of the frets is moving under your fingers, those frets have been dislodged from their original position and are causing your guitar to buzz.
Supergluing your frets may solve this problem in the short term, but you'll eventually need to have those troublesome frets replaced. Take your instrument to the nearest music shop and have a professional inspect all of its frets. There may be more underlying problems than you noticed by playing, so it's best not to tinker around with your fretboard too much.
Low Action
The guitar action refers to how much space there is between the strings and its fingerboard. On a high action, the strings are extremely tense, pretty far from the fingerboard, and to most people, hard to play.
Most people use low guitar action, and that's why fret buzz is more common than it should be. When you set the action low, the strings don't automatically come closer to the frets. They drop down from their usual position and almost fall on the frets.
Once the action gets too low, the strings dangle directly on the fretboard, almost to the point where you don't even need to press them. On certain points, they will cause fret buzz, because they are constantly touching the frets.
One of the most common instances of fret buzz happens when you don't use the right strings and want to tune your bass far below the Standard E tuning.
I first discovered this when I became enamored with The Black Dahlia Murder, a melodic death metal band that mostly plays in C Standard. With the default strings equipped on my B.C. Rich Warlock, I learned how to de-tune to C, and the strings nearly dropped below the fretboard.
Needless to say, the guitar was then unplayable. The frets that I could press either sounded weird or were buzzing. I then realized I needed to not only increase the action but also use strings suited for lower tunings. Again, the same goes for a bass guitar.
Ever since then, I use Ernie Ball strings, especially sets from their Hybrid Slinky series, because the lower 3 are super-beefy while the upper 3 are tailor-made for soloing.
You can increase your guitar's action even without changing the strings (or the tuning), though. It's very easy to do on electric bass guitars that come supplied with a truss rod, since all you have to do is crank it clockwise with a wrench.
Another way to do it is to sand the nut. The guitar nut places the strings in an elevated position, and certain models are just too high for comfortable playing.
Even if you sand it a fraction of an inch, the action is lowered considerably. But it is extremely important not to go too far, or the strings will keep popping out of the nut.
Extreme Neck Arch
The neck of any bass guitar is made of wood, and wood is extremely susceptible to temperature changes. I learned this the hard way when I was traveling to a rehearsal space on foot during wintertime.
Even though it was only about half an hour from my home, I exposed my guitar to fairly hot indoor and extremely low outdoor temperatures during this time.
The change in the neck's arch won't be too apparent at first, but it will affect your guitar's action and may cause fret buzz.
The guitar neck can also become warped if you store the instrument improperly. Needless to say, you should always keep your bass guitar away from damp places (like a basement, for instance), since moisture can make short work of its electronics. It can also impact the wood by twisting it.
Fixing this problem is all but simple, because you'll need to make a few compromises. You can try lowering or increasing the action on your bass as a short-term solution, but at the end of the day, you'll need to take it in for a professional setup.
The neck may need to be reset, which is a very complex process, especially if it is glued to the body. Bass guitars equipped with bolt-on necks are a bit easier to fix. But dismantling your entire guitar is not something I'd recommend.
Bass Guitar Buzzing: Final Thoughts
I'd like to emphasize that bass guitar fret buzz is a solvable issue, but it's still one of the most annoying problems that a bassist can experience. Figuring out what's causing it is half the battle, but not all of the causes are as apparent as dislodged frets or a broken nut.
Whenever you're in doubt, take your guitar to an expert for inspection. As mentioned, there may be more than a few underlying issues that could cause even greater problems down the road, so it's best to address the issue as soon as possible.