I first started on the violin a few years ago.
Like many, I bought the cheapest instrument I could find at the time.
As you can probably guess, it sounded terrible. It looked almost like a 'real' violin, but the weight, color, and feel were just off.
And the bow included in the package was along the same lines as the instrument itself, quality-wise.
It was made from cheap materials and mass produced in a factory.
What are cheap bow materials? And what are violin bows made of when luthiers use high-quality materials?
The answer is not as simple as you might think. Keep reading to learn exactly what materials are commonly used to make the various components of violin bows.
What Is The Violin Bow Made Of?
Violin bows are primarily made of wood and horsehair. That said, all violin bows have multiple parts, each made of a different type of material.
Luthiers usually consider the price, availability, and cohesion/synergy of materials, before deciding which to use for a specific instrument.
How much does a violin bow cost when made from cheap or expensive materials? It can vary greatly, from $20 all the way to $30,000 or more.
The 'stick', or the bow's backbone, is made of wood. The violin bow hair is called such, because it is made of thick, but gentle, strands of horsehair.
The grip found near the stick is commonly made of metal and can be fitted with rubber pads for more comfort.
You probably noticed the very generic answers above: "wood" and "metal." That's because there are no simple answers here. The wood and metal can be of many different types.
It largely depends on the brand from which you're buying the bow. All luthiers rely heavily on highly specific materials to craft each violin and the accompanying bow.
Below, we will go through the most common crafting materials that you will find on most violin bows. We will do so one component at a time, starting with the hair.
Bow Hair
The term 'bow hair' describes the thick, silky thread on the violin's bow. The reason why it is called 'hair' is because there are no other materials holding it together. It is made of hundreds of separate horsehair strands, which are tied together, and then compressed until perfectly smooth.
Types of Bow Hair Materials
The majority of luthiers (not counting the ones that experiment or try to innovate) use either real strands of horsehair or synthetic (lab-made) strands that only resemble strands of horsehair.
Every strand of horsehair used in violin bows is extracted from special breeds of horses. The hair is handpicked from the horse's tail. Only the best-quality hairs are selected. If a single strand of horsehair is either too thick or thin, it is discarded.
Only horses that live in extremely cold atmospheres are sought for their tail hair, with the prominent regions from which luthiers usually source their horsehair being Canada and Siberia.
Synthetic horsehair is the other option. It is far less common.
After a lot of digging, I learned that only a handful of fairly established companies have had somewhat positive results trying to replicate horsehair by using fabricated materials. Coruss, a French luthier specialist, has had the most success.
Average Lifespan of Violin Hair
Just like you have to restring your guitar every couple of months, your violin bow also requires maintenance. But fortunately, not as frequently.
The bow hair's lifespan is largely determined by the quality of the horsehair used in the manufacturing process, the refinement techniques (and skills of the artisan), and the frequency of use.
I still have never restrung my violin bow, but after thorough research, I discovered that you should rehair your bow at least once a year. Preferably once every six months.
Low-quality horsehair combined with extensive practice means that you may need to restring the bow even sooner.
On the other hand, even perfectly-made bow hair comprised of the finest strands of the purest Canadian breeds won't be able to endure more than 12 months of use before providing subpar results.
Bow Stick
The part of the violin bow holding the hair is called the bow stick. Luthiers usually use exclusively wooden materials, or a combo of wood with composite crafting materials.
Which they prefer depends on what they are trying to achieve. For example, high-quality wood such as Pernambuco or Snakewood is decently lightweight, fairly easy to work with, and it is sturdy enough to withstand years of use.
When luthiers don't have access to good wooden materials (either due to poor availability or sky-high costs), they sometimes add composite materials to balance the flaws of cheaper wood.
Types of Bow Stick Materials
Brazilwood is a dense dyewood that is considered an endangered species, but that's also the case with nearly all types of wood used to make violin bow sticks.
Since it is imported across the globe, Brazilwood is relatively easy to get and is therefore a bit more affordable than alternatives. Many low-end violins are outfitted with a Brazilwood bow stick. Upper-tier luthiers generally avoid it.
Boutique violin makers mainly use Pernambuco wood, which is also mainly sourced from Brazil. It is not too rare for resellers to mistake Pernambuco for Brazilwood (and vice versa), but the former is sturdier and more flexible. Similar to Brazilwood, Pernambuco wood is also an endangered species.
Vegan-minded violin players often use violin bows whose sticks are made of Snakewood. Native to South America but not exclusive to Brazil, Snakewood offers a gentler touch and a lighter feel compared to Pernambuco and Brazilwood, but is a tad flimsier.
As for synthetic or composite materials, luthiers typically use carbon, for a variety of reasons. First, it is man-made, meaning that it is always ethically sourced. Second, it is exceptionally robust, and not as prone to warping caused by humidity.
Violin Frog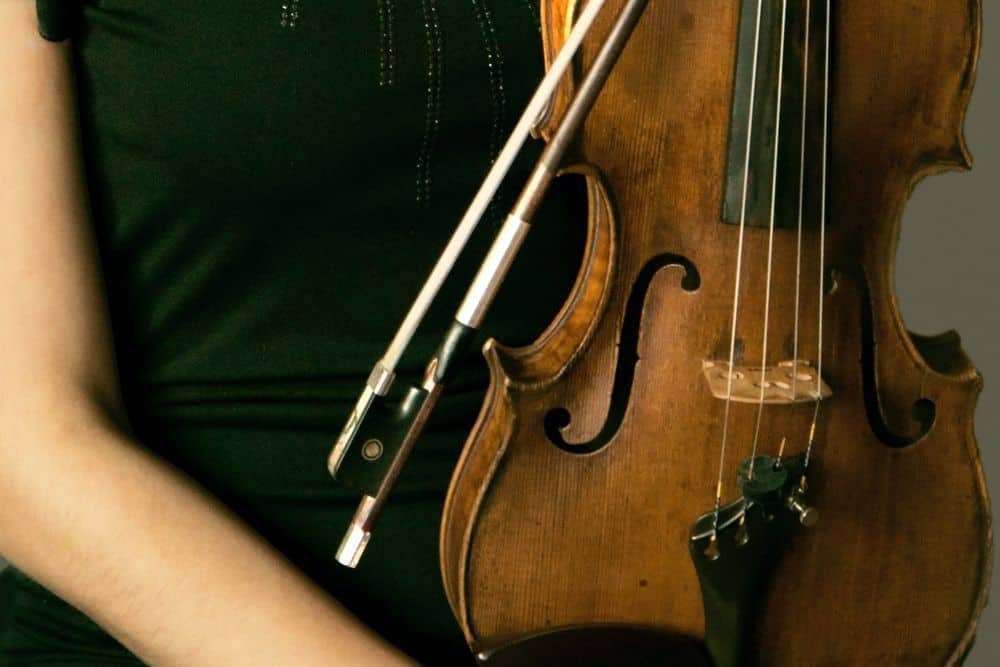 The part of a violin bow attached to the stick and holding the lower part of the hair is called the frog. It is used to tighten the violin bow hair and to keep it perfectly lined up.
The material from which the bow frog is made serves a more decorative purpose, since this particular piece is remarkably small and is fairly cheap to produce as such.
Luthiers commonly use ivory or tortoiseshell to ensure the frog is as stable and sturdy as possible, although ebony-made frogs aren't that rare.
Luthiers who specialize in boutique-level violins and similar instruments sometimes use extremely exotic materials to showcase the luxurious aesthetics of their products, such as silver or gold.
What Are Violin Bows Made Of: Final Thoughts
Violin bows are made from a number of different materials. The bow hair is generally made from horsehair, but some luthiers also use a synthetic material.
The bow stick is made from wood. Pernambuco, Snakewood and Brazilwood are the most common woods used. Some luthiers also use synthetic or composite materials, which usually means carbon.
Finally, the frog is usually made from ivory or tortoiseshell. Ebony is also sometimes used. And some luthiers like to use exotic materials to set their bows apart. Silver and gold, for instance.