Violins are expensive. We all know that.
When you first get started on the instrument, it hurts to learn you will need to spend at least $400 for a decent entry-level violin.
And then comes the bow.
How much does a violin bow cost and is it going to hurt as much as the instrument itself?
No, not quite. Bows can get incredibly expensive, but you can get good beginner's bows for a reasonable cost.
Keep reading to learn how much you can expect to pay for a violin bow in various budget ranges. We will also cover the factors that affect the price of bows.
How Much Does A Violin Bow Cost?
A violin bow can cost as little as $20 or as much as several thousand dollars. The average price of a beginner's violin bow is approximately $50 to 60; mid-range violin bows range from $200 to $500; and professionals often order custom-made bows that can cost upwards of $3,000.
Before I bought my first (and currently only) violin, I read a couple of buying guides and dove straight into the shopping part. Unsurprisingly, most local stores had modest selections of individual bows and offered me bundles instead.
That's the first factor of a violin bow's price. There aren't too many bow makers and specialist luthier shops around, which dictates the need for sourcing the entire product from other countries, often overseas.
Special techniques, technology, and materials are required to make any violin bow, unless we're talking about factory mass-produced budget ones that sound terrible and will probably break after a couple of months.
To ensure that you're getting your money's worth when you decide to start shopping for a violin bow, I want to explain all the key elements that comprise the price of these products and provide good estimates for the average prices of violin bows in various budget ranges.
Low-End Bows
Budget violin bows and the ones made for beginners are usually designed as helping tools, to aid you until you reach the next level. As such, they aren't meant to last for decades.
Considering that most greenhorn players (in any instrument) don't have keen ears for tone, luthiers rarely pay too much attention to detail when creating beginner's bows.
Size
Beginner bows, especially student violin bows, are rarely full-sized. They can be as tiny as 1/10 of a standard bow, 1/2, or in the best-case scenario, 3/4 of a full-sized bow.
More advanced students switch over to 4/4 bows only after they've learned the ins and outs. The smaller the bow is, the fewer materials are needed to make it.
Material
Luthiers wouldn't make any profit if they didn't use dirt-cheap materials for the bows they want to sell for as low as $20 to $30. The most common materials used for such violin bows are rounded hardwood and fairly flimsy horsehair.
Availability
Cheap violin bows are readily available. In the rare cases that a shop doesn't have connections to local luthiers, anyone can place a bulk-order of low-end bows on Amazon and simply resell them at a small markup.
Estimated Price Range
One of the cheapest violin bows I could find is a tiny 1/10 Anton Breton model for just under $20. The price range for low-end bows goes up to around $100. If you add a few extra dollars, you can find a better-sounding, sturdier bow.
Mid-Range Bows
Music school graduates and people with a bit of experience in other stringed instruments will probably get bored with a budget bow. Luthiers know this, and they know that their target audience doesn't have too much money to spend on a minor upgrade.
Size
Full-size violin bows are usually just a tad pricier than their smaller counterparts. It's also not uncommon for mid-range models to be 1/2 or 3/4 size, to accommodate the needs of players with smaller fingers.
Material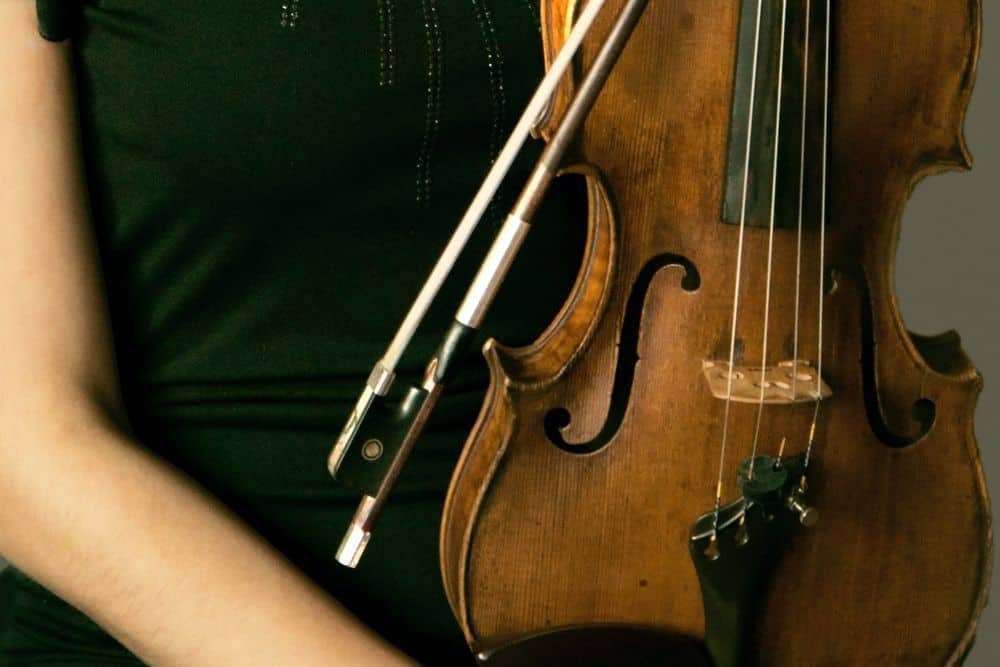 One of the main distinctions between budget and mid-range violin bows lies in the tonewoods. Better bows are made of more durable and more flexible wood that better synergizes with sonic vibrations to produce more pleasant, fuller tones.
Snakewood is the material of choice for luthiers that specialize in high-quality, yet affordable bows.
Even though it cannot compare to Pernambuco or other exotic South American tonewoods luthiers use for boutique and custom bows, snakewood bows are dense, but flexible and have a crisper tone.
Estimated Price Range
Mid-range violin bows cost between $100 and $1,000. Pricier bows in this range are often adorned with a better frog, feature better-quality horsehair, and are made of slightly better tonewoods (e.g. ebony instead of Snakewood).
Boutique Bows
The most expensive violin bows are obviously the rarest, mainly because they were custom-made by experts with decades of experience, such as Walter Barbiero.
Beautiful, outstandingly playable, uniquely-sounding, and supremely durable, boutique violin bows cast a tall shadow over their more affordable siblings.
Size
Custom violin bows are "customary" in the world of boutique bows. The usual metrics (1/4, 2/4, or full-size) don't apply, since luthiers will often offer you an opportunity to pick the exact dimensions of your bow.
When ordering from shops, boutique bows can be trimmed to a shorter size, often at no additional cost.
Material
The priciest violin bows aren't made of super-fancy tonewoods. They're typically constructed using quality Pernambuco wood, but it is often aged for better sound and subjected to a series of unique refinement processes.
That being said, it's not that high-end violins are so expensive because a luthier used a rare sub-species of wood. They use advanced technologies and instruments to refine these tonewoods, so that they can produce such amazing tones.
Estimated Price Range
Every violin bow above $1,000 can be considered a boutique bow, but there are models that are as expensive as $30,000. As you can probably imagine, the "cheapest" high-end bow cannot compare to models that cost tens of thousands of dollars.
With each part being handcrafted and manually refined so that each detail makes an impact, the most expensive violin bows are in a league of their own.
The "X" Factor of Boutique Violin Bows
The "X" factor or "trade secrets" to which new and emerging luthiers are not privy is another reason makers of boutique violin bows have all the right to put such steep price tags on their products.
They use unique features, processes, or accessories that make a bow one of a kind. This doesn't necessarily imply that it is the best-sounding, the sturdiest, or the most aesthetically pleasing bow of all time. It simply means that it cannot be replicated or mimicked.
A good example of such would be A. Lamy's Le Fils violin bow, which currently sits in the catalog of Dolce Violins at $24,000.
It is relatively simple in terms of design and looks almost exactly the same as a standard Manoel Francisco bow priced at $1,620, but it was made over a century ago by a famous and, sadly, deceased luthier.
How Much Is A Bow For A Violin: Final Thoughts
The cost of violin bows can vary dramatically. The cheapest bows sell for as low as $20, while the most expensive have sold for over $30,000.
If you are just starting out, you can get by paying less than $100 for a decent violin bow. Of course, as you advance in skill level, you want a higher quality bow to bring out the best in you playing. That will mean upgrading and paying several hundred, or even several thousand, dollars.