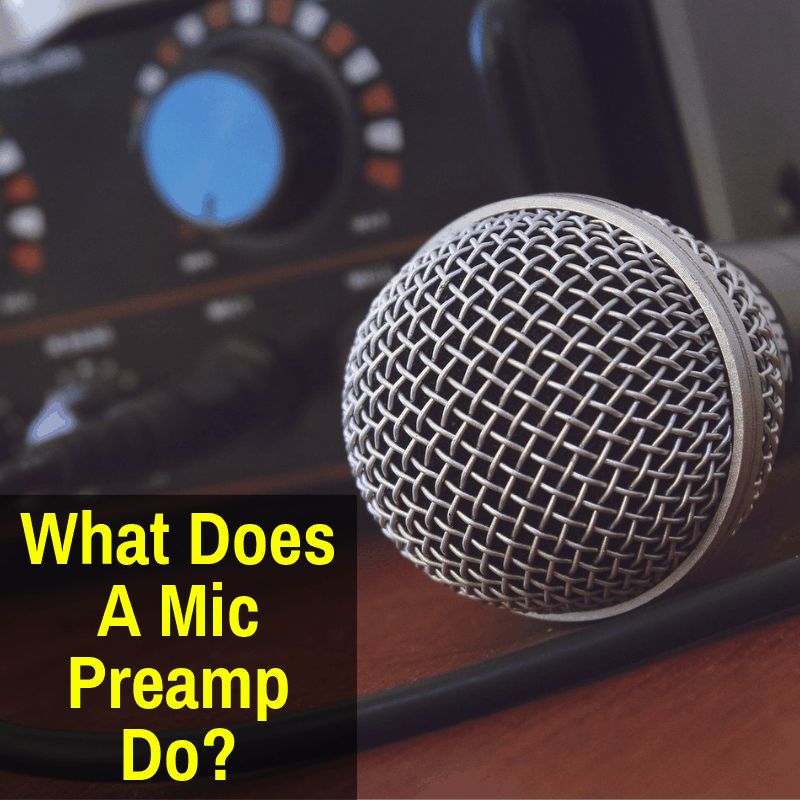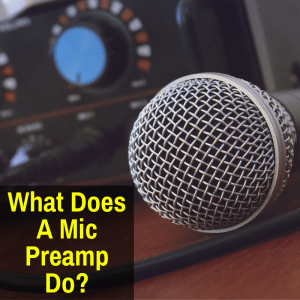 So, you've read you need a preamp for your mic.
You're trying to set up a little recording studio or simply trying to use a microphone to record your voice or an instrument.
Whatever your purpose for getting a microphone, you've just learned you're going to have to spend even more money on a microphone preamplifier. Quite a bit of money, in fact, if you want a quality model that actually sounds good.
But do you even need one? What does a mic preamp do, anyway?
We'll answer those questions and hopefully any others you may have (see the FAQ section below), so that you can confidently move forward and get your microphone working as soon as possible.
What Does A Preamp Do?
The most basic definition of a preamplifier is that its main purpose is to convert a weak electrical signal into a stronger one. It is mainly used to amplify signals from analog sensors, like microphones and pickups.
Microphones have the weakest signals and need the biggest boost. Guitars, basses and synthesizers need much less added power (if any). In addition to boosting the signal, a pre has a few other uses. Here are the 4 basic functions:
To boost a weak signal
To clean up a signal so that it sounds better
To adjust the signal, using a volume control, an equalizer, etc.
To blend multiple signals into one
What Is A Microphone Preamp?
As the name might suggest, it is a preamplifier made specifically for microphones. In fact, the term preamp is often used interchangeably with mic preamp, since boosting microphone signals is the most common application of a preamplifier.
What Is A Mic Preamp Used For?
Like any preamplifier, it boosts a single, in this case the microphone signal, to the same level as the line signal, so that it can be sent to a power amplifier and a loudspeaker. The signal needs to be strong enough for additional processing.
Strengthening it also makes it noise tolerant. Without sending it through a preamplifier, it would end up becoming noisy or distorted.
In additional to adding gain to the mic signal, a mic pre also supplies power to microphones that need it.
The power it supplies is called phantom power. It consists of a phantom circuit in which direct current is sent equally through the two signal lines of a balanced audio connector. This is generally an XLR connector.
Only condenser microphones make use of phantom power. It powers their electronic circuits and also polarizes their transducer element. Dynamic microphones do not need it and can simply ignore it, without it causing any harm.
Do I Need A Preamp For My Mic?
Your microphone will work without one, but it will not sound good. The signal from the mic will be much quieter than the other signals and while it can be boosted, it will become distorted as a result and not sound good.
That said, you don't necessarily need a standalone unit. Many audio interfaces or mixers have built-in preamplifiers.
If you already have one of those, there is no need to get a separate unit, but a high-quality one will undoubtedly deliver better sound quality than the interface or mixer. You could also use a USB mic, if you don't need the highest quality.
How To Use A Mic Preamp
Using one is fairly simple. You plug the XLR cable from the microphone into the mic input on the preamplifier and connect the line output of the pre to the line input on the next device in your sequence, be it an audio interface, an amplifier, a mixer, etc.
Most preamplifiers will have dials and switches so you can adjust the output. Some controls you will generally find are a switch for phantom power, gain and level controls to modify the strength of the signal and controls to adjust low, mid and high frequencies, so you can make changes to the bass and treble as needed.
There are number of other dials and switches that may be included on your microphone preamplifier. Going into every possibility here would take too much space. The included manual will have all the information you need on each control found on the unit.
What Microphone Preamp Should I Get?
We already have an extremely detailed article on our site helping you choose the correct microphone preamplifier for your needs.
It features the best models in the under $1000 price range, the under $500 price range and the under $200 price range. Several of the under $200 models are actually under $100. The article also gives you an option if you have more than $1000 to spend (lucky you!).
Mic Preamps: Frequently Asked Questions
Does a preamp boost volume?
It increases the signal strength and, in doing so, increases the volume.
Can a preamp power speakers?
No, it will not power speakers. You need a power amp to power a set of speakers. Read about the differences between the two here: Preamplifier Vs. Amplifier.
Is a preamp necessary for recording vocals?
No, you do not need one to record vocals, but it is usually preferable. You can definitely record directly from the microphone, but doing so would result in a signal that is too weak.
You would want to use a pre to boost the signal to the same level as all other signals. There are alternative setups, though. For example, you can also use a computer with an audio interface.
What Does A Mic Preamp Do: Final Thoughts
Hopefully you now have a much better idea what a microphone preamp does. If you still have some questions, please feel free to ask them in the comments below. In addition, here is a video that might help explain mic preamps further.
Further Reading