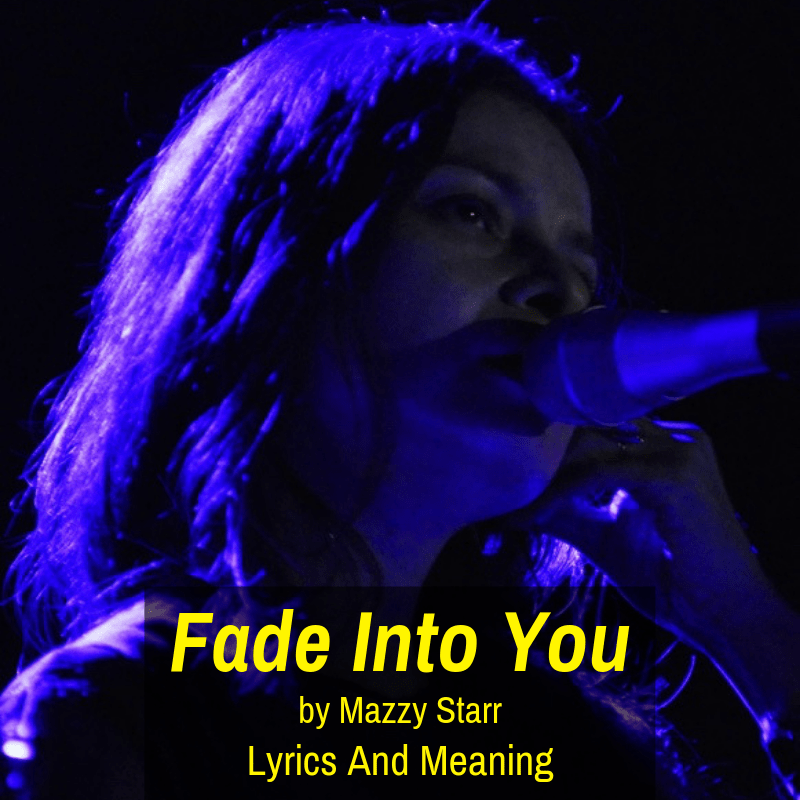 Fade Into You is the most popular and well-known song from the band Mazzy Star, an alternative/dream-pop group from Santa Monica, California who were most active in the early to mid 90s.
We included them in our list of bands like Tame Impala, so that tells you a lot about their sound.
I loved this band growing up, but they never really caught on, apart from this one song. It, however, was huge.
Fade Into You is the first track on the album So Tonight That I Might See, which was released in October of 1993.
It reached number three on the Billboard Modern Rock chart in 1994, and was Mazzy Star's only single to make the Billboard Hot 100. It managed to climb to number 44.
The song has appeared in a bunch of movies like Angus, End of Watch, Swept Away, American Honey, Lord of War, Burlesque, Starship Troopers, Chasing Mavericks and The To Do List.
If you don't know it from a movie, you've almost certainly seen it in a TV series.
It was featured in, among others: Gilmore Girls, Roswell, CSI Miami, Alias, Cold Case, Desperate Housewives and Without a Trace. It also got played at least once at every single high school and middle school dance from 1994 to 1999.
Fade Into You Lyrics
I wanna hold the hand inside you
I wanna take the breath that's true
I look to you and I see nothing
I look to you to see the truth
You live your life, you go in shadow
You'll come upon and you'll go black
Some kind of night into your darkness
Close your eyes with what's not there
Fade into you
Strange you never knew
Fade into you
I think it's strange you never knew
The strange light comes on slowly
A stranger's heart is out of home
You put your hands into your head
And your smiles cover your heart
Fade Into You Meaning
The lyrics to Mazzy Star's most famous song are a bit of a mystery. They mean a lot of different things to a lot of different people. Ignoring the meaning for a moment, for most people from my generation, this song, maybe more than any other, takes us back to our youth.
It takes us back to the 90s and the era of alternative music; to a time before cell phones and the internet, when music was not readily available at all times.
You only heard songs if you owned the album or if someone else played it for you, be it in concert, in a movie or TV show, on the radio, on MTV or at a friend's house.
You couldn't just look up a song you hear on YouTube and bookmark it to listen to whenever you wanted.
As for the lyrics, the most common interpretation is that "Fade Into You" is about having an unhealthy obsession with someone who is somewhat damaged and not capable of true affection. It is a bittersweet song, because naturally, such an affection can only end in heartbreak and disappointment.
Hope Sandoval's haunting voice ads just as much, if not more, mood to the song as the lyrics.
She sings of attempting to find a connection with this partner, but soon coming to realize that they are not capable of forming a real emotional and physical connection. This realization is disappointing and heartbreaking and her breathy, ethereal voice conveys those feeling perfectly.
The first two verses describe her trying to get close to this person who is not truly available. Nonetheless, she ends up giving herself completely to the person to whom she is singing.
She has faded into him (or her). They have become everything to her and she's lost herself in the process. The line "I think it's strange you never knew" tells us that, all the while, the other person never even realizes this.
The final verse describes her waking up to all of this. She finally comes to the realization that the object of her infatuation is not actually available on a deeper level. His (or her) "smiles cover his/her heart." The person is only superficially "with" her.
An alternative explanation I've heard quite a few times is that the song is about a shy girl finally confessing her true feelings to the object of her love. I think this works, too.
In this case, the last verse could simply mean that she finds it difficult to read the other person; she can't tell if her feelings are reciprocated or not.
Fade Into You Lyrics & Meaning: Final Thoughts
This might not be my favorite Mazzy Star song, but I still love it. And it's usually the only one you'll find at karaoke, so if you want to slip into Hope Sandoval's shoes for a few minutes, it's usually the only option.
There are better songs to sing at karaoke though. This one is a bit melancholy for most occasions, but it could be a good song for serenading that special someone in your life.
If you enjoy these types of posts, we also have one interpreting the meaning of the Blinded by the Light lyrics, written by Bruce Springsteen and made popular by Manfred Mann's Earth Band.
Photo Credit: By Flickr user "Jason Persse" [CC BY-SA 2.0], via Wikimedia Commons