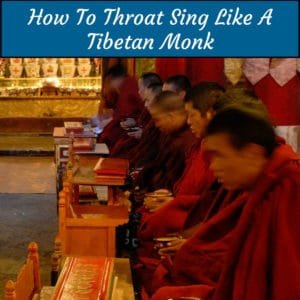 I bet you never though you could do it!
I know I didn't.
I've always thought throat singing sounded cool.
But I never dreamed I could make those otherworldly sounds myself.
It seemed a unique ability of Mongolians, Tibetans, Inuits, Tuvans and a few other northern peoples. And mostly men.
But then I saw a video of a woman with a high-pitched voice doing it and decided I'd give it a try, too.
If I can do it, you can too!
Just follow the steps below and you'll sound like a Tibetan monk in no time. A tone-deaf Tibetan monk at first, perhaps, but you can worry about fine-tuning the sound later.
For now, let's just get down the basics (and, of course, don't forget the basics of regular singing as you tackle this new style).
How To Do Mongolian Throat Singing
Honestly, I had no real reason to learn this art form, also known as Tuvan throat singing, overtone singing, overtone chanting or harmonic singing. I just wanted to see if I could.
I read a few articles on how to throat sing and started practicing.
I got pretty light-headed trying to make the right sound and have to admit I even drooled on myself a bit (anyone who has ever tried to master the tongue-rolling Spanish double-r is familiar with this), but 30 minutes later, I was throat singing!
I wasn't doing it well and didn't have great control over it, but I had figured out the basics.
Follow these 6 steps and after around 30 minutes of practice, you should be singing your first clear notes from down in your throat.
1. How To Shape Your Mouth For Throat Singing
You want to keep you mouth slightly open. Aim for about one centimeter of space between your top and bottom teeth front teeth.
To begin with, you want to keep the jaw muscles and lips relaxed. Later on, once you've got the basics down, you can work on using those muscles to control the resonance.
2. Where To Position Your Tongue
Begin by touching the tip of your tongue to the roof of your mouth, as you would to pronounce the letter "L".
Then move your tongue away from your front teeth just slightly until it's about halfway between the spot where it would be to pronounce the "L" and where it would be to pronounce the (American) "R". Once it's in place, press it against the roof of your mouth firmly.
3. Turn Your Mouth Into A Resonant Chamber
The unique sound of overtone singing is produced by a strong harmonic resonance in the mouth. In order to create that resonance, you need to turn your mouth into a resonant chamber.
This chamber is formed by the roof of your mouth and your tongue. With the tip of your tongue pressed against the roof of your mouth as described in the previous step, drop the main portion of your tongue down a bit and press the sides of your tongue against your side teeth.
Your tongue should form a seal with your teeth. Make sure this chamber is air-tight. You should not be able to breathe through it.
4. Open Up A Small Vent-Hole
Now you need to open up that air-tight chamber a bit. Create a little vent hole between your tongue and the side teeth on one or both sides of your mouth. Alternatively, you can create the vent-hole between the tongue and the roof of your mouth.
You want to keep this hole as small as possible—just big enough so that you can breathe through it. Hold your nose and breathe only through this vent.
You should hear a "hyuuuh" sound. You have now turned your mouth into a throat singing instrument.
5. Adjust The Volume Of Your Resonant Chamber
Changing the volume of the resonance is how you produce a melody while throat-singing. You control the volume by moving the central part of your tongue up and down, thereby increasing and decreasing the size of your resonant chamber.
Make sure you keep it airtight, apart from the small vent-hole.
Experiment with making the chamber flatter or rounder while producing the "hyuuuuh" sound and notice how it affects the pitch of that sound. Some styles of throat singing also adjust the position of the lips to further modify the pitch.
6. Vocalize Your Resonant Chamber
Now it's time to turn that "hyuuuh" sound into some actual vocalizations.
Keep the same mouth shape from the previous steps and try to create an "oooo" sound as in the English word "tool". You should end up with an overtone that sounds a bit like a flute.
In throat singing, you want to emphasize certain harmonics by tuning the resonance in your mouth. For our "ooooo" sound, you should get an overtone than is over an octave higher than the regular "oooo".
It is very easy to miss the flute-like sound produced above the "oooo" sound.
Most people can actually do it, but have a hard time realizing they are doing it, because it is generally very weak on your first attempts.
You should be hearing your regular deep "oooo", with a higher pitched component that sounds vaguely flutish.
Try adjusting the size of the resonant chamber by moving the middle of your tongue up and down and also try changing to position of your lips, until you find the proper resonance point.
You should end up discovering several resonances at different musical pitches. These are the sounds you use to create music in throat singing.
If you are unable to create or notice the flute-like sound, don't despair. Move on the the next section and see if any of the tips there help.
7. Troubleshooting
If you are not able to create the flute-like sound, it is most likely down to one of two things: incorrect mouth shape or insufficient harmonics.
To fix the issue of mouth shape, go back to step 5 and experiment more with making small changes to the resonance chamber formed by your tongue and the roof of your mouth, until you find the resonance. Also try changing the shape of the front of your mouth by adjusting the position of your lips.
To deal with harmonics that are too weak, you don't have to raise your voice or vocalize at a higher pitch. Keep making the "ooooo" sound with as bright a pitch as you possibly can—the sound wave resonating in your mouth naturally has a high frequency.
Perhaps this will help: picture someone strangling you as you are throat singing. Keep on making the "oooo" sound while their hands are wringing your neck. The tone that results is the "ooooo" sound you are looking for.
Once you've got the sound, try reducing the volume to bring out the flute-like quality more. Your voice should start to sound more like a really long "we", instead of an "oooo".
How to Throat Sing: Final Thoughts
If you're not quite getting it at first, keep trying. It took me about 30 minutes of practicing to get the sound right. It might help to have some examples, so here are two videos.
The first is a performance by Mongolian throat singer Batzorig Vaanchig (in an absolutely stunning setting, I might add):
The second is the first in a series of three videos of Anna-Maria Hefele explaining how to do overtone singing using a different method from the one I used to learn. Her explanations might help where mine have failed.
Note: When you do these exercises, it is important not to overdo it. You do not want to risk damaging your vocal cords. If you do end up with a cracked voice, here are some tips for getting it back to normal.
Further Reading