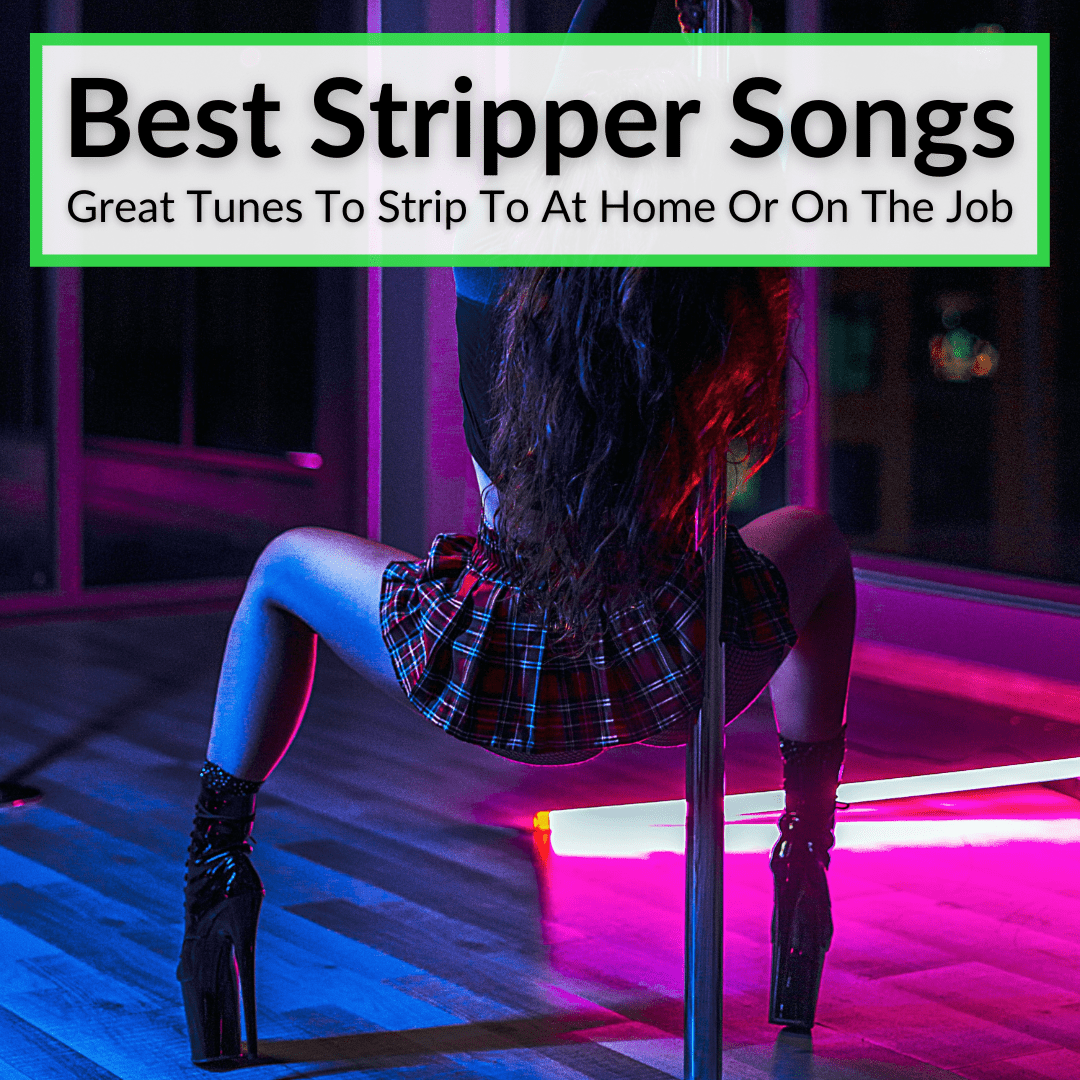 Strip clubs the world over seem to have a fairly standard playlist of music.
Sure, they mix in some new songs here and there, but those soon get replaced by newer songs.
The classic strip club hits never change.
Whether you're looking for the best songs to strip to at home or on the job, it makes sense to find inspiration in the clubs.
So we've compiled a list of the best stripper songs that have undergone extensive testing on the stage.
Keep reading for a list of great stripping songs you can use to surprise your significant other, or entertain your clients. They work either way.
Best Stripper Songs
As always, I tried to include great stripper songs in as many different genres as possible. Of course, certain genres lend themselves much better to the stripclub than others.
Closer by Nine Inch Nails
Nine Inch Nails released Closer as the second single on their second studio album, The Downward Spiral, in 1994 It went on to become the band's best-loved hit.
The song features musical elements from industrial rock, alternative rock, funk, and electronic music, and the explicit lyrics of Closer cover themes of self-hate and obsession.
The slow-paced yet high-energy track works well in strip clubs and is one of the most requested tracks in the industry. If you've ever been in a strip club, there's a very slim chance that you've never heard this iconic tune.
Lady Marmalade by Christina Aguilera, Missy Elliott, Mya, Lil' Kim & P!nk
Although Lady Marmalade was first released in 1974 by Patti Labelle, it received a reboot in 2001, thanks in large part to the success of the movie production of Moulin Rouge!. The supergroup-esque line up featured four powerful voices and one of the best female rappers ever, resulting in a raucous rendition of the disco classic.
Lady Marmalade, a song about a prostitute, is perhaps best known for the playful lyric "Voulez-vous coucher avec moi ce soir?" which in English translates as "Do you want to sleep with me tonight?" in its refrain. It's a cheeky little number, and definitely works well in a strip-club setting.
I Kissed A Girl by Katie Perry
It's no secret that many men find the idea of two girls kissing erotic, and that's the theme of Katie Perry's lyrics in her 2008 debut single. The bright pop/rock track topped the US Billboard Hot 100 chart for seven consecutive weeks, and hasn't been far from the front of the playlist queue in strip joints since its release.
With the opening line of the chorus – "I kissed a girl and I liked it" – repeated through the song, its a track that's sure to get the male pulse racing and it always goes down well in a strip club.
Pour Some Sugar On Me by Def Leppard
English rockers Def Leppard released their fourth studio album, Hysteria, in 1987, and Pour Some Sugar On Me featured as the penultimate track on side one. It's been a strip-club classic for over thirty years and is considered a classic big-haired 80s rock track.
From the intros opening line – 'Step inside!' – to the opening two lines of the second verse – 'Listen! red light, yellow light, green-a-light go! Crazy little woman in a one man show' – it's easy to see how the track became a strip-club staple.
Girls, Girls, Girls by Motley Crue
More big hair, over-the-top make-up, and tight pants – and we're still just talking about the band – feature in this strip-joint classic, also from 1987. Girls, Girls, Girls was the title track from Motley Crue's fourth studio album, and its chorus name-drops a few real-life strip clubs:
Girls, girls, girls
At the Dollhouse in Fort Lauderdale
Girls, girls, girls
Rocking in Atlanta at Tattletale
Girls, girls, girls
Raising hell at the Seventh Veil
With lyrics as blatant as those, surely this song was destined to become a strip-club standard from the moment it was recorded!
Fever by Peggy Lee
A change of pace from 80s glam rock, Peggy Lee's seductive classic is perfect for when you want to slow things down a little in the club. Fever was originally recorded by R&B singer Little Willie John for his debut album in 1956 and has since been covered by Elvis Presley, Madonna, Christina Aguilera, and Beyoncé.
But the most iconic and strip-club-friendly version was recorded by Peggy Lee a couple of years later. Lee's sultry tones and the song's suggestive lyrics have combined perfectly to make this a truly classic song, whether you're in a strip club or not.
I Just Wanna Love You (Give It 2 Me) by Jay-Z
Another track that name-drops real-life strip clubs, Jay-Z's I Just Wanna Love You grooves along to a slow and sexy beat as its playful lyrics mention infamous Atlanta strip joint, Club Cheetah.
Released as the first single from his 2000 album The Dynasty: Roc La Familia, the track features several guest appearances, including Pharrell Williams singing the chorus and a cameo by Lil' Kim.
Jay-Z said in an interview that the song was based on a true story, about the happenings at a Mary J. Blige afterparty. If you want to get the party started in the club, a song about a party is hard to beat.
Young Lust by Pink Floyd
I'll be honest. I've only been to a strip club once in my life. Shortly after I entered, they played this song and I thought, maybe strip clubs aren't so bad. Then they played every other song that night. It was horrible. I only wish they had played some more of the songs in this list.
I don't know if Young Lust is a staple at strip clubs, but it definitely works for them. I mean, it's kind of what the song is about, and hedonism inspired the lyrics. It's no coincidence another famous Pink Floyd song made this list of songs about money and wealth.
Writing credits on Young Lust go to Roger Waters and David Gilmour. Pink Floyd, released the track in 1979 on their eleventh studio album, The Wall.
The song became a fairly popular hit, reaching the 53rd spot on the US Billboard Hot 100 chart. The album The Wall is one of Pink Floyd's most successful albums of all time and has sold over 30 million copies worldwide.
I Luv Dem Strippers by 2 Chainz with Nicki Minaj
With a title like that, there was no way this song would not become a strip-club classic. It featured on Based on a T.R.U. Story, the debut studio album from American rapper 2 Chainz, released in 2012. And you've been hearing it in strip clubs across the land ever since.
With its video also shot in a strip club and the chorus' repetitive proclamation, "Yeah, I love them strippers," you can bet this one will be on the playlist at a strip club near you.
Shake That Ass by Eminem with Nate Dogg
Eminem's first compilation album, Curtain Call: The Hits, was released in 2005 and featured three new songs. One of those was this collaboration with Snoop's cousin, Nate Dogg. And it is no stranger to being played in strip clubs the length and breadth of the country.
Sometimes referred to by the shorter name of Shake That, it's another track with a title that predestined it for success at the strip club. And its slow and seductive beat makes it easy to follow the song title's orders.
Bad Girlfriend by Theory Of A Deadman
Bad Girlfriend was quite literally written for the strip clubs. Canadian rockers Theory of a Deadman released it as the second single from their third studio album, Scars & Souvenirs,' in 2008.
Lead singer Tyler Connolly said the song was written specifically as a stripper song, and its lyrics speak of a girlfriend who is bad in a more playful kind of way.
"She's hot, can't stop, up on stage, doing shots" is belted out in the song's second line, leaving us with little doubt the track will be ringing out in strip clubs for years to come.
Milkshake by Kellis
From Kellis' 2003 album Tasty and featured in the 2004 teen movie Mean Girls, Milkshake was a huge commercial success. Its somewhat ambiguous title and lyrics leave little to the imagination, and its raunchy nature has led to it becoming another strip-club hit.
The song's slow and seductive rhythms add to the evocative lyrics, and you'll be hearing this one in the strip clubs for many years to come. In a way, it's also a song about the other woman.
Hot In Herre by Nelly
Released as the first single from Nelly's second studio album, Nellyville, Hot In Herre has a title that's particularly apt for a strip club. And with the chorus taking the idea a little further – "It's gettin' hot in here, So take off all your clothes" – the song was an instant strip club hit.
The song was a major hit outside the strip clubs too, and it was the first winner of the Grammy Award for Best Male Rap Solo Performance, a new category for 2003. Two versions of the official video for the song were shot, with one filmed at the St. Louis Arch, and a raunchier one set in a club.
You Shook Me All Night Long by AC/DC
Aussie rockers AC/DC have several tracks that are commonly pumped out in strip clubs the world over. The fast-paced rock tunes work perfectly in a strip setting, and You Shook Me All Night Long is a perfect example. The track featured on the band's iconic 1980 album Back in Black, the first to feature singer Brian Johnson following the death of Bon Scott.
The lyrics require very little deciphering and its themes are perfectly at home within the strip club environment. This song has been rocking the strip clubs for 40 years and counting. And with other tracks like Thunderstruck and Highway To Hell, you should expect to hear at least one AC/DC classic per strip club visit.
I'm A Slave 4 U by Britney Spears
2001's I'm A Slave 4 U was the lead single from Britney Spears' third studio album, Britney. The song shocked a few fans, and it was seen as a departure from her more innocent teen-pop sound of previous years.
But Britney was a more grown-up 19 years old at the time she wrote this song. With a title and lyrics as raunchy as this, this was always going to find its way onto strip clubs' playlists from the moment it was released.
Britney Spears gave a famous performance of the song at the MTV Awards in 2001, with the show featuring an albino Burmese python and a white tiger. It's one of the singer's most iconic performances, and one that has been recreated, without the animals, at strip joints ever since.
Best Songs To Strip To: Final Thoughts
As mentioned, I wanted to include as many different genres as I could in my list of best stripper songs, but most genres just don't lend themselves to this occasion. That's why the list is almost exclusively hip-hop and hard rock.
If you have an suggestions for other songs that should be on this list, especially ones in other genres, please let me know in the comments below. I'm always looking for great suggestions to add to the list.