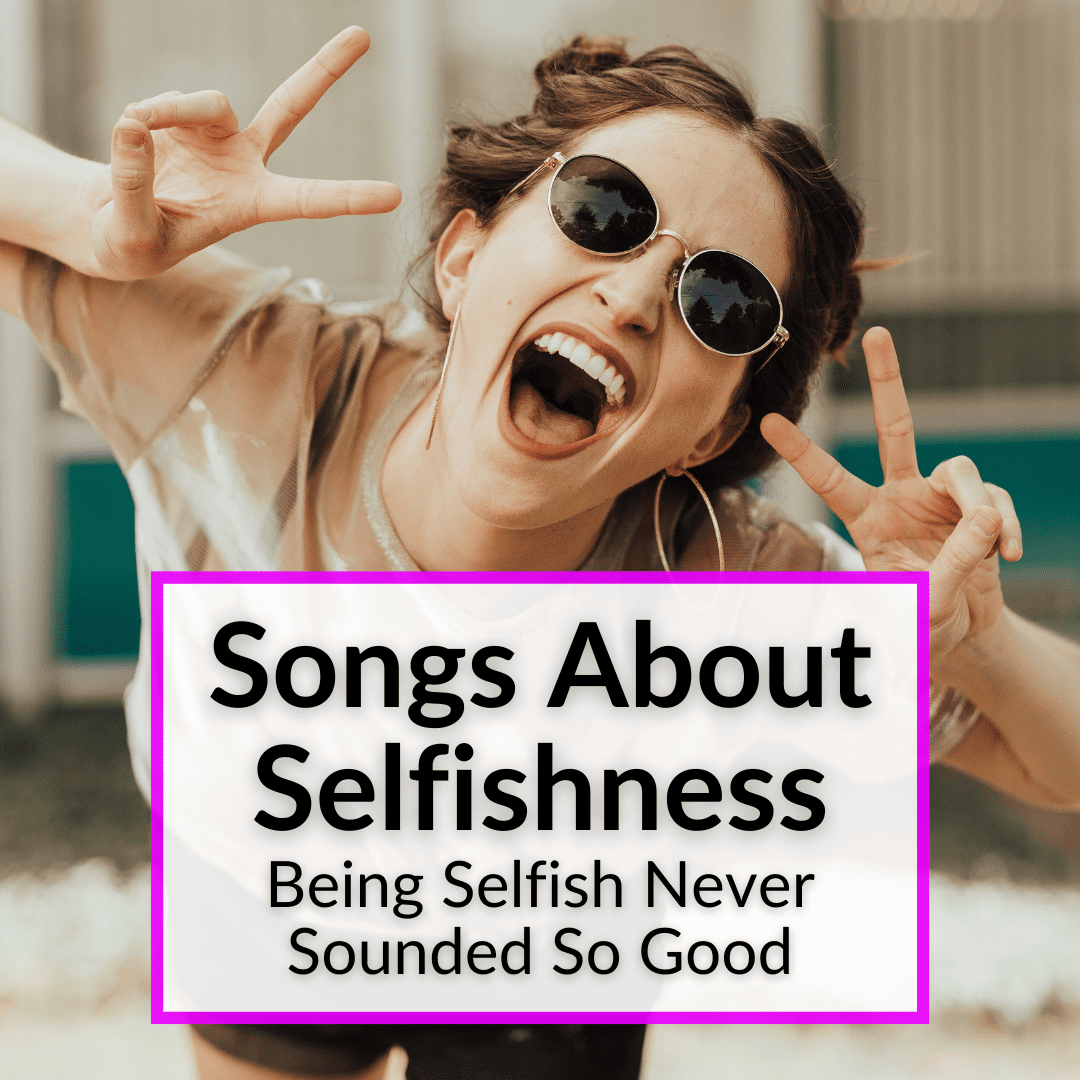 Selfishness is not always bad.
Sometimes being a little selfish is healthy.
But that's not the kind of selfishness we're talking about today.
The songs about selfishness below address the unhealthy type. They type we all encounter in others everyday of our lives.
And often, the kind we ourselves exhibit at times, if we are honest with ourselves.
Like so many things in life, good or bad, one of the best ways of dealing with them is through art.
And music is perhaps the most accessible form of art we have.
To that end, let's take a look at some great songs about being selfish.
Songs About Selfishness
The following great songs are all about selfishness and being selfish, in one way or another. Tellingly, they are all about being selfish as a partner or lover.
OF course, friends can be selfish, too. We have an entire article of songs about toxic friends devoted to the selfish friends in your life.
Back to Black by Amy Winehouse
From one album came Amy's heartbreaking title track and a haunting video of the same name.
The music for this single was written by Mark Ronson, just one day after meeting Winehouse. They had had a conversation about music and bands from the 60s, a musical period they both admired.
This unlikely collaboration received a thumbs-up from Amy, leading to the pair working together over the next few weeks. This paid off on the songs that made up her hit album.
Ronson may have had a lot to do with Back To Black's unmistakable sound, but the lyrics came from Winehouse herself.
As with most of her work, Back To Black is deeply personal. It stemmed from Winehouse's heartbreak and was written after she suffered a breakup.
There are different interpretations of 'going back to black', with some critics thinking it means depression, some talking about turning to alcohol, and others thinking it means turning to heroin.
While this has always been left open to interpretation, there is no question as to who the single is dedicated to. Black to Black was inspired by Amy's ex at the time, Blake Fielder-Civil, who had left her for an ex-girlfriend of his.
Jar of Hearts by Christina Perri
Heartbreak has its stages. First love is born, then one of the parties decides to kill it, and later the other party realizes that it no longer exists and stops fighting for it, etc.
And in many cases, heartbreak happens when the person who has stopped feeling the wonderful feeling of love decides that now they do care and wants to get it back.
Christina Perri taught herself to play the guitar at sixteen. At twenty-one, she decided to go to Los Angeles to be a singer. Her life had many ups and downs in those years.
She had a marriage that lasted a year and a half, she worked as a waitress by day to pay for sessions in recording studios, and she produced low-quality music videos.
During this chaotic time, in 2010 to be exact, she composed a song entitled Jar of Hearts that began to play on independent radio stations.
The lyrics tell us about the anger of knowing that her ex-partner is selfishly trying to get her back, without caring about all the damage he caused her and all the lies he told. But she is now someone new, who has managed to rebuild her life, and she does not want to be his property again.
This type of selfish behavior is so common. One partner (usually a man) breaks up with the other, because they think they can do better. This leaves their partner devastated and it takes hem a long time to recover.
Just when they do, the partner who initiated the breakup realizes that they can't in fact, find anyone better and come looking to get back together. They find their ex has moved on, leaving them to wallow in self-pity and perhaps sing songs about still being in love with someone they broke up with.
Blame by Calvin Harris and John Newman
Whenever Calvin Harris decides to do something, it seems that he ends up getting great results. Perhaps it is that track record that led him to dar to combine the soulful spirit that characterizes John Newman with electronic music made for the dance floor.
The result of this combination is his song Blame. The first time you listen to Blame, the sensations are somewhat confusing. You can't help but think that things don't exactly fit together.
There is an electronic part that creates a somewhat more delicate atmosphere that crashes against a part created specifically for dance floors. But you soon come to realize that this song by Calvin Harris and John Newman is strangely engaging and soon you don't feel that break anymore. At least not so abruptly. It somehow works.
The video seems to talk about what the song is about, but without actually specifying anything specifically, if that makes sense. It is a set of somewhat disconnected images that leaves the door open to many interpretations.
It is as if the lyrics blame the night, while the video blames alcohol, or another factor, for what both the guy and girl have done.
But listening to the song's lyrics gives a clear picture: the guy cheated and won't take responsibility. The water at the end is simply an awakening, it is the "bucket of cold water" that brings them back to reality.
Blank Space by Taylor Swift
If there's one artist you think of when it comes to songs about selfish lovers, that's Taylor Swift. She has released many songs on the subject, including 2014's Blank Space. It is a pop song with electronic hip-hop touches. But as usual for Swift, all the weight falls on the lyrics.
In the first video from her album 1989, Taylor laughed at her way of dancing and the criticisms about it. In the video for Blank Space, she makes fun of another image that many have of her.
That image is of a crazy girlfriend who devours men. One who has had too many sentimental relationships because her emotional and mental instability does not allow those relationships to last long. And the video is completely consistent with the song.
The lyrics, quite ironically, deal with how the media and her ex-boyfriends label her as crazy and how they say that her life consists of her entering relationships and then writing about her significant others them when they break up.
She meets a guy, they date, they break up, she writes some songs and replaces the past guy with the next one. Over and over again. But it makes for great music. And, like many of Swift's hits, this is one of the best karaoke songs for women.
New Magic Wand by Tyler, The Creator
Tyler, the Creator is without a doubt a polarizing figure in the world of hip-hop. On the one hand, he has suffered criticism in the past for being labeled 'homophobic'. On the other hand, some factions of the hip-hop fandom have long recognized him as being gay.
The reason this topic comes up is because the lyrics of New Magic Wand do not make it clear whether he's rapping about a man or a woman. Or to say more precisely, the song is aimed at the romantic interest of someone who is lesbian or gay.
That's because the entire song is centered around Tyler being upset with his partner for dating a woman. Instead, he wants the individual's undivided attention. Curiously, he never uses gender pronouns to specify the sex of his lover, which lends itself to the aforementioned speculations.
The term 'new magic wand' is used to explain how he lures his lover into focusing exclusively on him, while he dumps the other woman. He also states "like magic, it's gone", so perhaps this device alludes to his inclination to end the affair, if the aforementioned demands are not met.
Ultimately, what we can conclusively determine from this song is that Tyler, the Creator is deeply in love with the person he is addressing. For example, he expresses the wish to marry them one day.
However, he is also incredibly jealous of the woman this person is dating. So basically, he's forcing this individual to choose between him and this other woman.
Liar by Rollins Band
Liar is one of the best-known songs from Henry Rollins' Rollins Band. It was the lead single off the 1994 album Weight. The song never charted but it enjoyed other forms of success.
It was included in an episode of MTV's Beavis and Butthead and the music video was in heavy rotation on MTV apart from that show. VH1 ranked it number 64 on their list of the best hard rock songs of all time. The song was even nominated for a Grammy for best metal performance.
Liar begins with Rollins' famous spoken word singing. He talks about someone disillusioned with mean and looking for a new partner they can trust. That person meets the narrator who seems perfect.
Then comes the chorus where Rollins erupts into scream singing. He explains he's a liar who tells people what they want to hear so that he can use them. He doesn't even know why he lies, but simply feels compelled to do so.
The narrator holds a lot of anger inside and it compels him to selfishly prey on vulnerable women. The jarring contrast between the spoken word parts and the screaming parts add to the message of the song.
What he does to these women is clearly a form of emotional abuse. This song could just have easily been included on our list of songs about abusive relationships.
Norman Fucking Rockwell by Lana Del Rey
Norman Fucking Rockwell is the title track from Lana Del Rey's sixth studio album, which was released in 2019. The song did not chart, but critics mostly heaped it with praise. It was nominated for Song of the Year at the Grammys.
The song is fairly lighthearted, with a good bit of humor sprinkled in. In the lyrics, Del Rey sings about a relationship with an immature, selfish man. She knows he is not great, but she lets herself be convinced to stay with him and she hates herself for it.
Girl by The Beatles
Girl was written primarily by John Lennon with a little help from Paul McCartney. The song was included on The Beatles' 1965 album Rubber Soul. The song saw some success in Europe, but nothing major. It is not one of the band's major hits.
The lyrics talk about the type of girl that can get guys to do anything for her and that knows it. She selfishly strings them along, getting what she wants from them. The song probably stands out the most for how many times the band managed to sneak the word "tit" into the lyrics. They did this kind of thing a lot back then.
My Way by Frank Sinatra
Many artists have sung My Way and have been successful with it (people like Elvis Presley and Sid Vicious), but most people know it as a Frank Sinatra song. He is the one who made it popular.
But he did not write it. Paul Anka wrote the lyrics and the music actually came from a French song written by Jacques Revaux that was called Comme d'habitude.
To be honest, this song is not exactly about selfishness. At least not the bad kind. It is more about self-determination: being selfish in a good way. You're confident in your accomplishments and your abilities and you don't worry about what others think.
Selfish by Madison Beer
Of course a song that is actually called Selfish had to have a place on this list. In fact, there are a number of songs with this title out there, but this was the one I liked the most. Madison Beer co-wrote and produced it along with Leroy Clampitt.
Beer released Selfish in 2020, as the second single from her debut album titled Life Support. The song was hailed by critics but it did not chart in the US (it hit number 25 in Ireland). The video did see some success on YouTube though.
The lyrics talk about a toxic relationship with a selfish man who pretends to love her but clearly never did. Nevertheless, she could not get herself to end it for the longest time. No, it's not an original story, but the reason this topic continues to resonate with people is that it is such a universal occurrence.
You're So Vain by Carly Simon
Carly Simon wrote You're So Vain in 1971 and released it a year later. The song reached number one in the US and numerous other countries. It is listed on a number of different lists of te greatest songs of all time.
The song was nominated for several Grammy Awards for Song of the Year, Record of the Year, and Best Female Pop Vocal Performance. Today, it is the song most people associate with Simon. Her signature song, if you will.
The song's lyrics talk about a self-absorbed and selfish man. Ever since Carly Simon released You're So Vain, there has been speculation as to the identity of the man she is singing about.
Many names have entered the conversation, but only one has been confirmed by Simon. She admitted that the second verse is about Warren Beatty. She has often said that the song is actually about several different men, so the other verses are probably about other men. Simon has not divulged any additional names publicly.
Songs About Being Selfish: Final Thoughts
What did you think about our list of songs about selfishness? Are there any additional songs you would have added to the list? If so, please feel free to let us know in the comments below. We will be happy to add any good suggestions to the list.
You might also like to hear some songs about winning, to celebrate yourself. This article features 12 great victory songs.