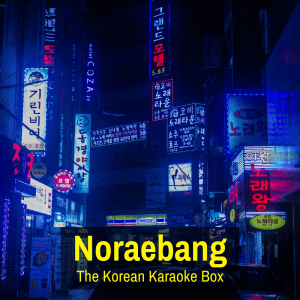 We've all heard of Karaoke.
And many of us have heard of Japan's karaoke boxes.
These are basically private rooms you rent with your friends so you can enjoy a night of singing without disturbing anyone else.
But not many people have heard of Noraebang. They are basically the same thing.
The Korean equivalent of the Japanese karaoke room, the word "noraebang (노래방)" literally means "song room".
If you ever find yourself in Korea, make sure to refer to them using this word and not the Japanese "karaoke." The Koreans are not fond of using Japanese words, as World War II is still a sore spot.
Keep reading to learn everything you need to know about noraebang, including basic etiquette to ensure you don't offend anyone while you're there.
Noraebang (Korean Karaoke)
Like their Japanese counterpart (or Chinese, where they are called KTV), noraebang have something for everyone. Obviously, they have large karaoke machines with extensive song collections, including many English (as well as Japanese and Chinese) songs.
They also sell food and drinks, making a night of singing that much more complete, especially for those who don't enjoy singing and just go to socialize. Furthermore, most noraebang don't care too much if you bring in your own alcohol, although their drink prices are generally fairly low already.
Noraebang are usually set up like recording studios, with a series of soundproof rooms on either side of a long hallway.
Once a group checks in, the singers are given a large binder of songs and a quick tutorial on how to use the equipment, which generally consists of a couple of microphones, a remote control, a TV monitor and, for some reason, a number of tambourines or maracas.
You sit on couches and sing along to the lyrics on the screen. The lyrics are superimposed onto videos that have nothing whatsoever to do with the songs (they don't have the rights to play the actual videos), which can be pretty hilarious.
You pay by the hour ($5 for bare-bones noraebang; $10-$20 for more luxurious rooms; hundreds, even thousands, for ultra high-class ones) and can stay as long as you like. Most noraebang are open very late.
If you ever find yourself in Korea, heading to a noraebang for a fun night of singing with friends is a must. It's a very Korean experience that you don't want to miss. But there are a few general rules of conduct you should keep in mind.
Noreabang Rules Of Conduct
Follow these basic rules of conduct and your noraebang night should go off without a hitch. This ensures you get invited again for another round of fun!
Don't hog the microphone
This should go without saying, but no one likes a mic hog. A night at a noraebang works best when everyone takes their turn, then passes the mic to the next person.
So when you are flipping through the song book, resist the urge to pick ten songs in a row for yourself. Choose one song for now, then pick another later when it is your turn again.
Choose Upbeat Songs
People go singing to have a good time. They want to hear upbeat songs they can dance along to. Even better are karaoke songs with catchy choruses they can sing along with. We also have a list of the best karaoke songs for women here.
This doesn't mean you can't choose the occasional ballad or sad song. Just don't make every song a downer. And if possible, save the ballads for the end of the night, when everyone has had a lot to drink and the ballads start coming out naturally.
Cancel Boring Songs
If you're in the middle of a song and you notice your previously wild and crazy friends are suddenly sitting motionless with their hands in their laps, chances are you are boring them.
Don't force it and finish your song. Cancel it and let the next person take their turn. The same goes if you chose a song that goes on forever, especially if it does so without any actual lyrics. Apologize and cancel.
Avoid The Priority Reserve Button
The priority reserve button (우선 예약 – useon yeyak) moves whatever song you choose directly to the front of the queue. It should only be used when you have to leave early and your friends agree to let you get one least song in before you go.
Use it in any other situation and your friends might "forget" to invite you to the next noraebang night.
Noraebang: Final Thoughts
Noraebang is nothing more than the Korean version of the Japanese karaoke box. But it doesn't need to be more. They're a blast!
Where else can you belt out all your favorite tunes, without bugging anyone or incurring judgement? Not only that, your friends can accompany you with their own singing, or with basic instruments (usually maracas or tambourines).
What's more, you can even order food and drinks and make a real party out of it. These tend to cost slightly more than from a store, but usually about the same as any cheaper restaurant.
Even better, many noraebang allow you to bring in your own food and drinks. This makes for one of the cheapest fun times you can have!
A night out at a Noraebang can be great fun, but make sure you adhere to the unwritten and unspoken rules of Korean karaoke outlined above. That way your friends or coworkers will happily invite you along to every one of their Noraebang outings.