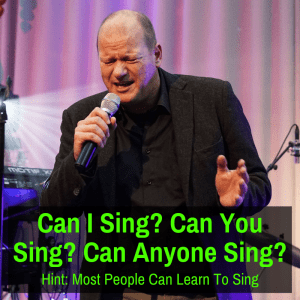 "Can anyone sing?"
You have no idea how often I get asked a variation of that question. And the answer is "no."
But most people can.
If you instead ask "Can I sing?" the answer is almost always "yes."
Almost everyone can sing, with some training.
The only people who can never learn to sing are those who are tone deaf, or those who have a medical issue that prevents their vocal cords from working properly.
Keep reading to find out if you are tone deaf (and why you almost certainly aren't), and to learn why you don't sound good, even if you do not have an issue that prevents you from being a good singer.
Can I Sing Or Am I Tone Deaf
From experience, I know a bunch of you just pointed to yourselves at the mention of the words "tone deaf."
A lot of people think they are tone deaf, because they are not able to carry a tune and sing on pitch.
The truth is, very few people are actually tone deaf. If you think you might be one of them, here is an online test you can take.
It shouldn't take more than 5 minutes and I am certain you will learn that you are not tone deaf at all. It is very rare for someone to fail that test.
Anyone Can Sing…Why Do I Sound So Terrible Then?
While almost everyone CAN learn to sing reasonably well, most never do.
It takes practice.
For some people, it takes a lot of practice. That is because, while it is true that most everyone can sing, some people definitely have an advantage over others.
Some people are physically more cut out to be good singers. The structure of their vocal cords and larynx and the shape of their skull are simply more suited to singing.
Upbringing also plays a role. Children who are exposed to music a lot growing up have an easier time learning to sing as adults.
Even without those advantages, you can become a decent singer. And whether you have those advantages or not, you are going to have to work at it. No one is good right off the bat. And generally, the longer you wait in life, the harder it gets.
Most people sing with their speaking voices, because they never learn different. The older they get, the more accustomed they get to using their speaking voices and the harder it gets to unlearn that bad habit.
This is why, as with so many other things in life, children have an easier time learning to sing than adults. But even as an adult it's worth it to learn. Not only is it fun, it actually has a number of health benefits, too.
So What Should I Do If I Want To Be Able To Sing Well
Now you know you can sing. And you know it will take some effort. But what exactly, do you do?
First, read through these singing tips for beginners. They will help you with the very basics and you should see some immediate improvements in your singing voice.
Then I would look at the different options for online singing classes. They range from free to expensive and that article will help you decide which are best for you.
Whether you want to be the next winner on The Voice or American Idol or you just want to impress your friends with your best karaoke songs, just like anything else in life, it will take effort.
And the more effort you put in, the more your voice will improve. Any of the vocal lessons mentioned in that article I linked to above will give you drastic improvements in your vocal abilities.
They all begin with a focus on the basics. These are things like your posture, your mouth position, your breathing, etc. Those fundamentals hinder your voice greatly if done wrong.
But if you get the fundamentals down, you will see a big change in your singing voice. It is possible to do this with just free YouTube videos, but everyone gets better results with a structured set of lessons.
Naturally, you get the best results with an actual vocal coach, but who can afford that these days. If you're one of the lucky ones, go ahead and get yourself a good teacher.
If not, your best bet is an online course created by a famous vocal coach. They all have prerecorded videos that teach you everything you need to know and you can go at your own pace.
As mentioned, all of the best are outlined in that post above. I recommend Roger Love's course above the rest for most people, with The Vocalist Studio coming in a close second. I'd check out some samples from both and see which teaching style works better for you.
Anyone Can Sing (Almost): Final Thoughts
You can't say that anyone can sing. Some people are completely tone deaf and will never be able to learn to sing well.
But most people can learn to sing. It is certainly easier for some people than others, but even if you are currently a terrible singer, you almost certainly can learn to sing eventually.
It might take a lot of time and even more hard work, but if you stick to it, you can learn how to sing. I advise getting yourself a comprehensive online singing course to learn the fundamentals and get yourself to an intermediate level.
Once you have reached that level, and you are sure that singing is something you love and want to continue, it is probably time to consider a live vocal coach. Someone you can visit in person, who can correct your errors in real time. That is the only way to get a professional singing voice.
Further Reading