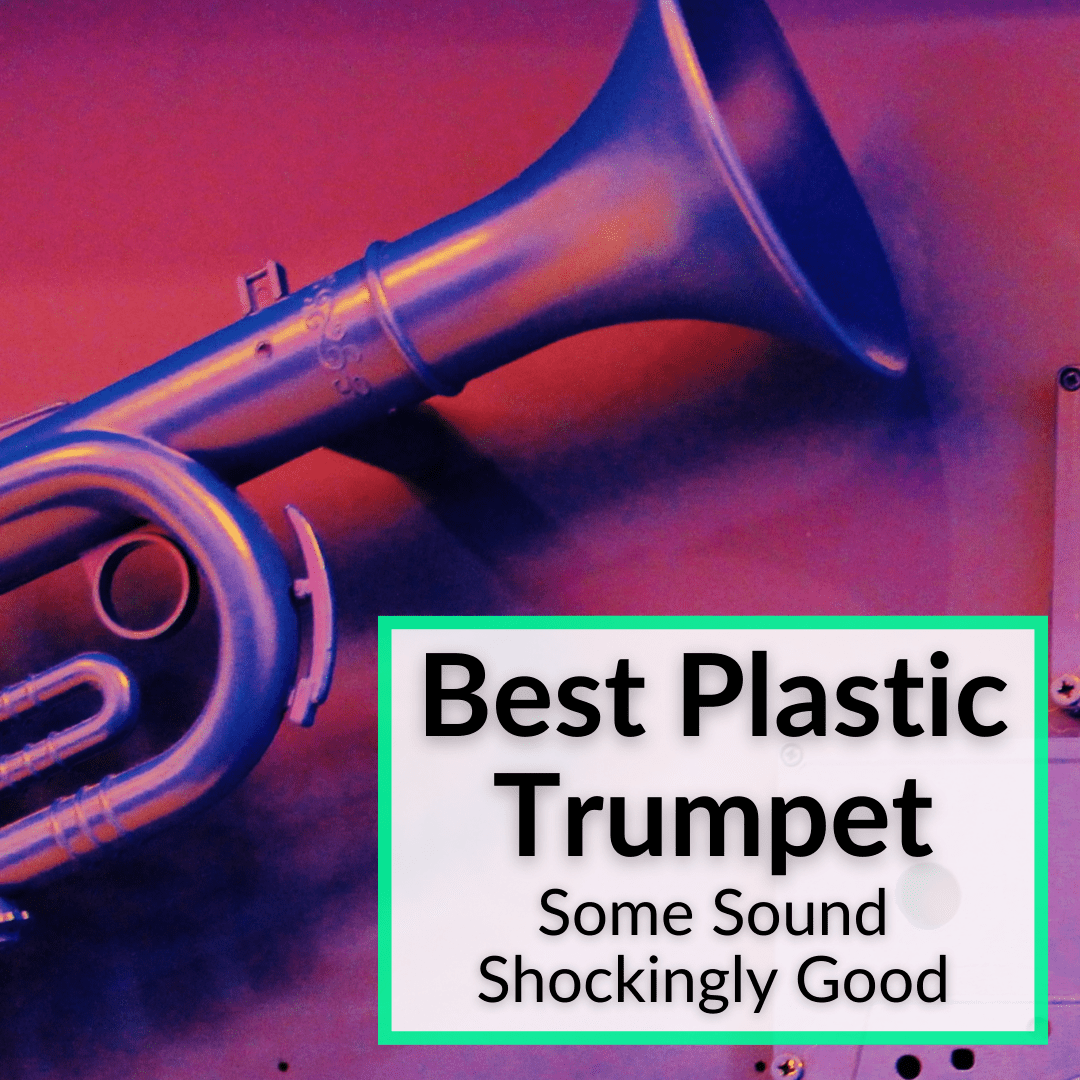 Many will tell you plastic trumpets are nothing but toys.
But that's not always the case.
The best plastic trumpets sound and play great.
They can make for great practice or travel instruments. In fact, they can even play professionally.
But you have to make sure you get a quality plastic trumpet.
How do you know which are good?
You keep reading, that's how!
Below, we review the top plastic trumpets on the market. Then we answer the most common questions about plastic trumpets.
Best Plastic Trumpets Compared
09/25/2023 11:34 am GMT
Top Plastic Trumpets Reviewed
All of the models below are great, but some are not meant as professional instruments. They are merely toys. Which are which is clear from the reviews (and the cost, obviously).
Best Plastic Trumpet Overall: Tromba Pro Professional Plastic C Trumpet
Tromba Professional Plastic C Trumpet
Polished & machine-honed yellow brass sleeves
High quality stainless steel pistons with ABS core
Damage resistant and easy-to-clean surfaces
Color customizable and interchangeable parts
View On Amazon
We earn a commission if you make a purchase, at no additional cost to you.
We chose the Tromba Pro as the top plastic trumpet for various reasons. The first is that this trumpet is plastic only in the body but other parts are either made of steel or brass.
For example, the pistons are stainless steel which is obviously better than plastic. The sleeves are brass and are polished quite well.
Another reason is that this plastic trumpet is tuned in the key of C, which is probably the most popular tuning for trumpets.
The plastic is of high quality and therefore quite resistant to damage and it produces great sounds. The plastic is also quite smooth so it is very easy to clean this instrument. It also comes in the color black, which looks amazing.
All the parts can be changed so you can customize this trumpet further. The only downside might be the weight. It is a bit heavier than all-plastic trumpets, due to the metal parts, but it's still lighter than real brass trumpets.
Highest Quality: pInstrument pTrumpet Plastic Trumpet
There is no restriction to what the plastic pTrumpet can perform. This trumpet is one of the top choices of musicians and trumpet lovers. It was developed in the UK and cast in bb, with the entire body made of plastic.
The trumpet comes with 2 acrylic mouthpieces, and the package includes a cloth bag. The bag is very useful when you need to transport the instrument from one place to another without stress. The gravel design incorporates a four hundred and sixty-inch diameter, a standard tapered tube, and an all-plastic valve system.
The idea behind the function of an all-plastic valve system is to create and grow the trumpet in a way that is quick and simple for any beginner to use.
It is durable, strong, and reliable with quality sound. It has a patented lead tube that helps ensure you get the sound you want.
This plastic trumpet is the ideal instrument for beginners and youngsters who cannot use steel trumpets. It is perfect for those who have difficulty with the use of high-powered trumpets.
Best Budget Plastic Trumpet: pInstrument pBugle
pInstrument pBugle Plastic Bugle
Fun Learning: let your child explore their musical interest with the pBugle kids musical plastic instrument. It's simple to use and encourages creativity and imagination all while developing sensory and fine motor skills.
Easy To Play: allows mini musicians to easily hold and create vibrating sounds like a trumpet with the antimicrobial mouthpiece. Playing develops beginner brass skills without learning complicated valves.
Tough And Durable: unique hard recyclable ABS plastic design that can withstand rough play and use. The convenient plastic detachable mouthpiece can even be cleaned in the dishwasher!
High Quality: designed by award-winning musicians, the fully sustainable, recyclable and eco-friendly trumpet is virtually indestructible.
View On Amazon
We earn a commission if you make a purchase, at no additional cost to you.
For those who don't want to spend big on their first instrument and just want to practice the basics of the trumpet, pInstrument has just the thing for them.
Being this cheap, the trumpet has no valves and therefore acts like a bugle. Nevertheless, the sound produced is very trumpet-like and people, kids especially, can practice breathing, embouchure, and all other basics of playing the trumpet without valves.
The sound that it produces is incredibly good. The same goes for the production quality. The plastic is durable and high-quality, which makes this plastic trumpet suitable for transport or good practice for children.
It's lightweight, easy to use, easy to clean, sturdy to withstand damage, sounds like a trumpet, the mouthpiece is detachable, and you get backing tracks with it! All in all, it is one of the best deals for beginners.
Best Professional Plastic Trumpet: Pampet Professional Bb Trumpet
Pampet Professional Plastic Trumpet
Brass bushing with precision polishing and grinding treatment
High quality food grade stainless steel piston with ABS core, strong friction resistance and great air-tightness. With imported stainless steel spring inside.
With 7 C high quality plastic mouthpieces
Durable and easily cleanable surface
Color can be customized, replaceable independent parts, interchangeable parts for trumpet assembly
View On Amazon
We earn a commission if you make a purchase, at no additional cost to you.
The Pampet company has been ever-present in brass instrument manufacturing and this time around, they have expanded their offering into plastic trumpets. All their experience adds up to one great plastic trumpet.
Much like the top choice, this instrument has polished brass sleeves and ABS stainless steel pistons. These pistons provide the best possible airflow and therefore the best sound possible with plastic trumpets.
Of course, the plastic is of great quality and is quite lightweight (less than half a kilogram). What's most amazing about this trumpet, apart from its great performance, is the aesthetics. It looks like a real brass trumpet but is see-through! The transparent plastic really looks amazing.
The parts can be replaced and changed so you can customize this trumpet as much as you like.
Best Colorful Plastic Trumpet: Tromba Plastic Bb Trumpet
Tromba Plastic Bb Trumpet
Polished & machine honed yellow brass sleeves
High quality stainless steel pistons with ABS core
Damage resistant and easy clean surfaces
Color customizable and interchangeable parts
View On Amazon
We earn a commission if you make a purchase, at no additional cost to you.
09/25/2023 11:29 am GMT
There are many similarities between this Trobma plastic trumpet and the previous model. That's why it is only natural to see this one will be on the list as well.
The high-quality plastic body is made incredibly well. It resembles the best standard trumpets and provides similar great sound. It comes in five great colors: metallic red, red, white, yellow, and champagne. It is hard to choose which one looks best, but my personal favorite is the red one.
The pistons are made of ABS core stainless steel and the sleeves are polished brass, so you can expect great sound. Also, it is in the key of B Flat, which adds to the overall sound greatness. The parts can be changed and customized according to your taste.
Best For Kids: ArtCreativity 13 Inch Metallic Plastic Trumpets
If you're having a birthday party for your young ones and want to make an orchestra party, this is what you need. A set of 5 plastic trumpets suitable for kids who just want to make noise, and perhaps fall in love with the instrument.
These trumpets are 13 inches long and thus only for kids. Besides, there are no pistons so they are for blowing air only.
Although they are great for party noise, more talented kids will soon find out that these trumpets are a bit more than that. They can change tones and act like real trumpets if used properly.
They also come in many colors, so there is something to appeal to any boy or girl. Playing them for a while will make a great party which often leads to kids falling in love with the instrument. A perfect option if you want your kid to become the next Louis Armstrong.
Plastic Trumpet Buying Guide
In this buying guide, we basically answer the most common questions when it comes to buying a plastic trumpet. If you have any additional questions, please ask them in the comments below.
Where To Buy Plastic Trumpets
Thanks to the appearance of the internet, getting plastic trumpets is now easier than ever. We always provide links to Amazon, since most people already have an account there.
Plus you generally receive your order within 48 hours, the shipping costs are very cheap, you have hundreds of reviews to help you make a selection, and requesting a refund is quick and easy.
If you don't like the idea of making a purchase on Amazon, you can search several other online stores in the sector, such as Carrefour, Maison du monde, Leroy Merlin, eBay, Lidl, etc.
And if what you prefer is to go to a physical store, just by checking any community on Google, you will see how easy it is to find shops anywhere to buy plastic trumpets.
What Are The Best Brands Of Plastic Trumpets?
In the reviews above, we learned that the best brands of plastic trumpets are ptrumpet, Pampet, and Tromba.
We arrived at this conclusion after investigating the 10 most important models, we analyzing all the testimonials and awarding points to the brands with good comments (such as ptrumpet, Jtlb, Everpertuk, Toy, Cestmall, Dilwe, Pofet, Fun fan line, Lioobo, Tiger, etc. ) and subtracting points from brands with bad reviews.
After this exhaustive analysis, the brands ptrumpet, Pampet, and Tromba are the ones that have the best reputations and quality of instruments.
What Is The Price Of Plastic Trumpets?
Prices for plastic trumpets can vary between 20 and 200 dollars. Usually, the average price on the internet is around 80 dollars.
Why A Plastic Trumpet?
Why not? There is no code that says a trumpet has to be made out of brass. Think about it. If plastic trumpets had existed before the brass ones, we could be discussing the introduction of brass as something out of the norm.
It is not about challenging convention but rather adding a new perspective. Plastic trumpets are developed to suit certain needs and add benefit to circumstances where they did not exist before. The same goes for other variations, like the amazing little pocket trumpet.
Advantages Of Plastic Trumpets
The first obvious point is that they are quite a bit lighter. They weigh around 500 grams on average, which is a significant difference from brass instruments. This has the advantage of being easier to play for a longer time, which reduces fatigue and increases attention span, especially in young students.
Plastic trumpets are gaining more prominence on the market today. It is considered the best option for children who are learning to blow the trumpet. Any of our above-mentioned plastic trumpets is an option that far exceeds metal/brass ones because they are light, transportable, and easy to use.
There are many, many reasons why a plastic trumpet should be considered over a steel trumpet, especially when just starting to play.
Own

Both Plastic And Brass Trumpets And Use Them Accordingly
Plastic trumpets are ideal to transport and to have ready to practice at a party or as an outdoor pleasure for times when you do not want to take your more valuable brass trumpet outside. Besides, they can be colored and used in schools, which is great to have if you are a teacher.
There are many other benefits that for all ages and abilities, but what is most important about the plastic models is that they play very well and represent a great value for money.
Best Plastic Trumpet: Final Thoughts
We hope our brief reviews of the best plastic trumpets on the market have helped you figure out which model is right for you.
As mentioned before, all of the models above are great, but they serve different purposes. A plastic trumpet meant as a child's toy is not going to be suitable for a professional trumpeter.