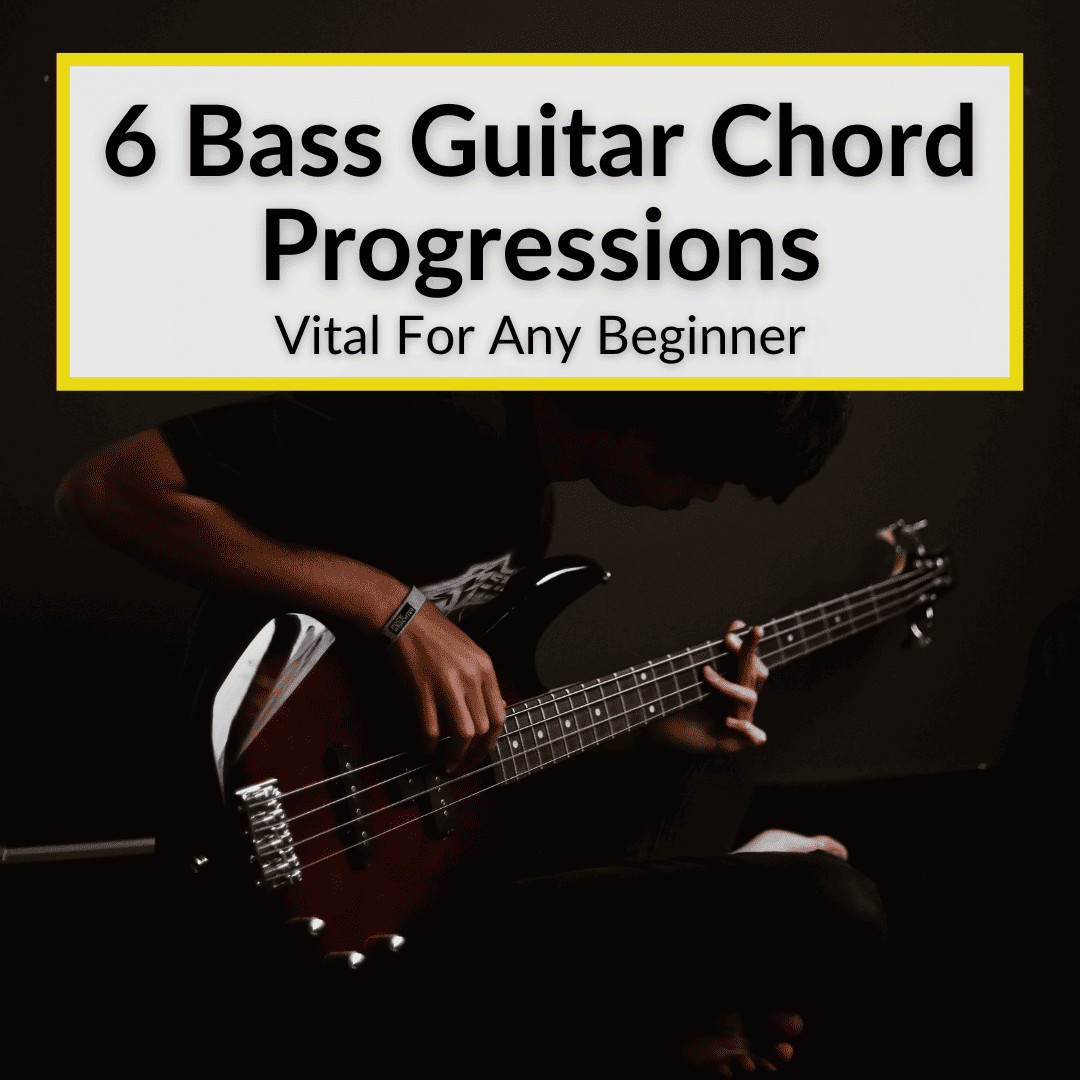 I remember what I struggled with most when I started out.
It was knowing what to work on.
What should I be practicing to maximize the benefit I get from my limited practice time?
The answer is going to be different for everyone.
But learning chords is always a step in the right direction.
And bass guitar chord progressions are a wonderful way to practice moving from one chord to the next.
Even better, they are incredibly useful. Assuming you learn progressions, of course.
So which chord progressions should you be learning on the bass? The 6 below are great to start out with. They will help you practice key chords and open up all kinds of possibilities, too.
Bass Guitar Chord Progressions
There are, of course, many more bass guitar chord progressions than the six below. But these are all highly useful chord progressions to learn when you are starting out on the bass guitar.
"Bare Bones" Rock Chord Progression: E-D-C
The first chord progression you'll probably learn is the "E-D-C". I can't put my finger on whether rock (and some metal) bands love it so much for its simplicity, its harmonious sound, or both.
What makes this chord progression great is that it simply feels natural for tracks that start in "E". Retreat to "D" for dramatic effect, and stoop down to "C" when guitars are playing those beautiful licks, then return to "E" to keep the groove going.
The simplicity of the "E-D-C" bass guitar chord progression allows you to use it in verses, choruses, and even short fills. Beginning bass players and people who don't want to overplay in solo parts usually go with this progression. It allows the solo guitar to be in the spotlight, while creating a very melodic background.
The reason I call this chord progression "Bare Bones" is that it gives you the freedom to play parts from other chords whenever you wish to spice your riffs up. It's simple at its core, but it leaves plenty of room for experimentation.
The Heavy/Power Metal 101: E-D-G-D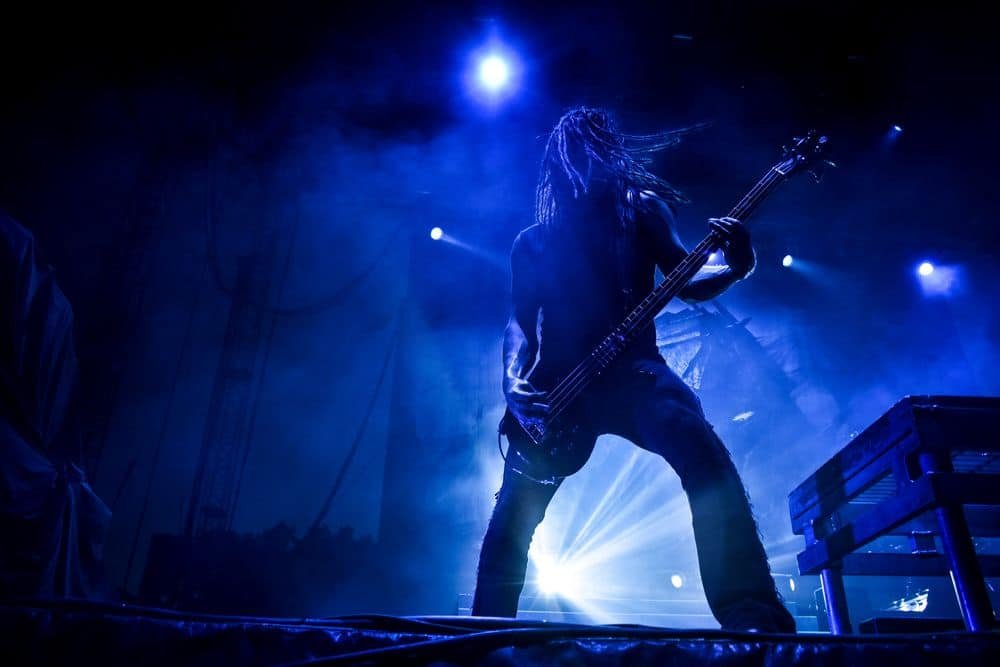 Many heavy metal songs, and nearly all power metal tracks, feature the "E-D-G-D" progression, at least in one part. It's the chord progression that gives the heavy Symphony of Destruction a more melodic side
Metallica's Fade to Black famously dives into "E-D-G-D" during the second part, and you can clearly hear how the song drastically changes.
The E-D-G-D progression features an extra chord over the "E-D-C", but it's still a fairly easy string of chords. Without the melancholic "C" in the picture, it wouldn't be wrong to call this progression a "happy" one.
It befits most songs that are dominantly played in major chords, although you could sneak it in almost anywhere. This chord progression is as commonly used for verses as it is for choruses.
If you don't want it to sound too major-esque, I recommend playing the starting notes and octaves (both ways). Whenever you need to back out and give your guitarists some room, you can simplify this progression even further to "E-E-G-E".
Melancholy Blues: D-G-C-F Into B-E-B-A
The masters of blues, such as Gary Moore, know how to make extremely melancholic and memorable tunes without ever scratching any sharp notes. This chord progression is slightly more complex than the previous two, but it's quite common in songs that were meant to sound sad.
Even though a string of eight chords will limit the notes you can play in any given part of a song, they mostly overlap with each other harmony-wise. Even if you make a mistake by mixing up the order, you'll likely remain in the same scale or play notes that won't hurt the song.
Sonically, the chord progression of D-G-C-F Into B-E-B-A is a descending one. However, experimentation is always welcome in blues, so feel free to add higher notes when needed.
Funk & Alt Rock Basic Chord Progression: C#-E-B-A & A-B-C-C#
You can play most rock songs with simple major chord progressions like E-D-C-E. However, if you're composing or covering funk rock or alternative rock tunes and want to step out of the classic arrangements a bit, try C#-E-B-A.
One of the most common examples of this chord progression working like a charm is the world-famous All Along the Watchtower by Jimi Hendrix. It has a similar vibe to standard major chord progressions, yet the addition of just a few sharp notes makes it a little spicier.
Writing original riffs and licks with these chord progressions can be tricky for beginners. It's easy to deviate from the groovy vibes into an ominous-sounding atmosphere, if you don't know the scales of each of these chords. C and C#, for example, are more often used in metal one after the other, so keep these chords separated as much as you can in your songs.
Simple Death Metal Bass Chord Progression: F-G#-G & A#-B-A#-G
People who don't listen to death metal usually think that these musicians simply mash as many notes as they can, without paying much attention to what they're playing. That couldn't be any further from the truth.
It takes a deep understanding of chords and scales to create an ambient that is consistently dark, spooky, and aggressive.
One of the simplest chord progressions I use when jamming this type of music is F-G#-G. This basic combination of chords is usually limited to power chords, although octaves work just as great, especially if you're proficient in slapping techniques.
I'll usually follow it with A#-B-A#-G to further cement the gloomy atmosphere, although F-G#-G is enough to create an entire song.
Both of these chord progressions aren't exclusive to death metal bands. You can hear similar combinations from bands that lean on the darker spectrum of heavy metal, such as Slayer or Warbringer.
Even though they usually deploy chromatic scales instead of full-sized chords, they often use similar patterns that can be transposed to progressions like F-G#-G or A#-B-A#-G.
Universal Chord Progression for Slow Music: E-A-G-E
There are a few chord progressions that you can play in virtually any song, and as long as you're in the right key, you'll be pressing the right notes. The E-A-G-E is one of my favorites, because it works like a charm in slow music.
Whether it be super-heavy doom metal, slow blues, or a heavy metal ballad, the notes in this chord progression are everything you need. For heavier songs, you may want to replace the last E with an F#, but even if you keep this chord progression as-is, it will work your way.
If you're composing faster songs, but like how this progression sounds, you can always fit it into the intro or the outro.
Common Bass Chord Progressions: Final Thoughts
All of the bass guitar chord progressions above are incredibly common in various styles of music. Another thing they have in common is that they help you practice some of the most common and important chords on bass guitar.
These are chords that any bassist needs to know. And not only do you get practice playing the chords themselves, but you practice moving from one to the next, which is actually far more important, if you want to become a proficient bass player. We also have an article with some great bass guitar exercises for beginners that can help you improve your playing.