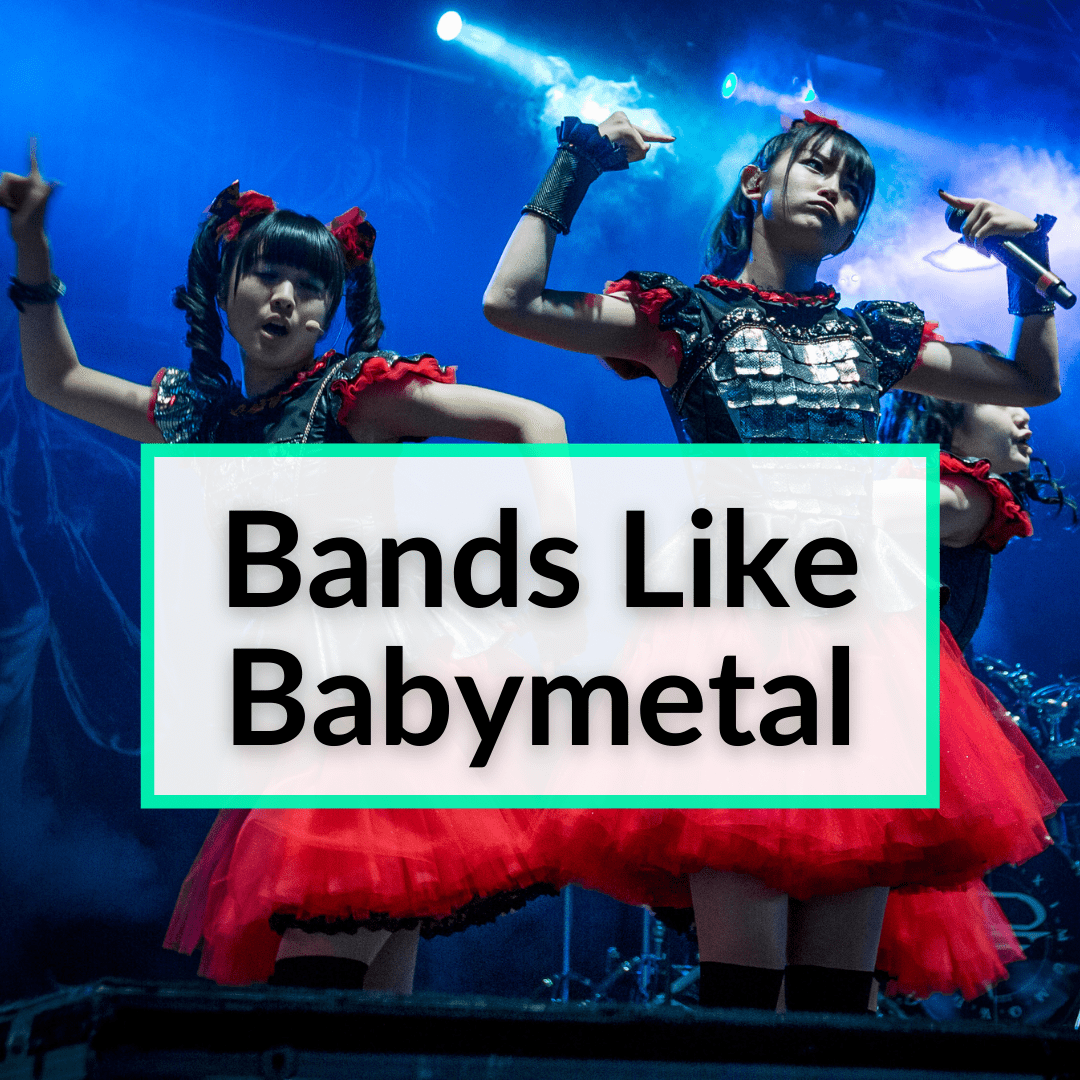 Babymetal embarked on their first world tour in 2014 and took the Western world by storm.
Their mix of Japanese idol kawaii voices and heavy metal music was completely new.
And people loved it.
Obviously, there were no bands like Babymetal before they popped up on the scene.
But there are a lot of them out there now, and not just in Japan.
We've compiled a list of the best.
Keep reading for some other great Babymetal-like bands for your listening pleasure!
Babymetal-Like Bands
Ladybaby
If you thought that it's difficult to find another Japanese female metal group, you were wrong. Japan is full of such groups now. One similar group is Ladybaby.
Ladybaby is a pop-metal group that is making people talk in Japan. Why? It was formed by Ladybeard, a transvestite professional wrestler, along with Rie Kaneko and Rei Kuromiya, two idols of Japanese music.
The band surprised everyone with its fun and visual proposal when their clip for their debut song Nippon Manju was posted on YouTube on July 4, 2016.
The band combines the aesthetic of Japanese schoolgirls with the most infectious j-pop and heavy metal choruses. This song theme talks about Tokyo and encourages the listener to "enjoy and taste Japanese products." Ladybeard and his two female companions sing in the YouTube video dressed in sailor suits.
In an interview, Australian-born Ladybeard explained that his fascination with dressing as a schoolgirl was born when he was 14 years old, when he wore his sister's uniform to a costume party. "I loved the attention I got when I cross-dressed," he noted.
Since then, schoolgirl outfits have been a part of both his wrestling persona and his singing career.
This lineup was on hiatus from 2016 to 2020, and now the band has reformed with only Rie Kaneko remaining, accompanied by Nana Ikeda, Emily Arima, and Fuka Karasawa.
Unlucky Morpheus
Unlucky Morpheus was founded in 2008 and has an impressive 18 studio albums, 6 live works (4 of them recorded on video), and around 10 EPs. But it should be clarified that of all that prolific production only 5 original albums are released, the other productions are arrangements or covers of video game songs.
The band is currently made up of bass player Ogawa Hiroyuki, Yukimura Hirano on guitar and second vocals, Fumiya on drums, Jinya on guitars, Jill on violin, and Fuki as the lead vocals.
Just like Babymetal, the sound of the band is related to Power Metal, although the band makes use of modern sounds, Speed ​​Metal vocals, Symphonic Metal, and some progressive touches.
This creates a sonic mash well used to create songs that often sweeten the ear from the first listen in a way that only the Japanese know how to do.
For example, the latest album Unfinished lasts just over 30 minutes and comes with very varied and intense songs. The beginning of the homonymous song is introduced with brooding keyboard melodies and prominent bass, before distorted guitars and deep vocals enter the stage.
Mary's Blood
These last few years have been a testing time for the Japanese "girl metal" band scene. Several bands ceased their activities and many of those that were not finished had various internal and external problems (as seen with Ladybaby).
Meanwhile, the Mary's Blood power metal quartet has kept going, as they always have. The band has consistently featured a new release every year since 2011.
Musically, their third album Fate brought them more fame in the rest of the world than the previous two. Fate is a continuation of Bloody Palace (2015), which saw Mary's Blood swap the refined master melody of Countdown to Evolution (2014) for a more aggressive and clever approach.
A side effect of this was that vocalist Eye stood out firmly, taking the place of Saki, whose guitar pyrotechnics have largely been limited to her soloing.
The music did not suffer, especially now that Eye did not use English lyrics as in the previous two albums that, although they were catchy, sometimes reminded us of the writing of Yasushi Akimoto, the man behind incredible lyrics like HKT48's Melon Juice. The rest of the band is completed by Mari on Drums and Rio on Bass.
On the following three albums, including the latest one Mary's Blood that was released on September 29, 2021, the band stuck with their now recognizable sound, winning hearts all over the world.
Even though they are one of the longest-running acts on Japan's "girl metal" scene, it's surprising that it took them more than ten years to perform in Europe. Because of that, October 4, 2019, was a very important day for Mary's Blood.
NECRONOMIDOL
NECRONOMIDOL is a Japanese idol band that also calls themselves Ultradark-NECRONOMIDOL. They produce music that includes black metal and dark waves. The main theme of their music is horror, especially by the American writer HP Lovecraft, as well as Japanese horror movies and comics.
NECRONOMIDOL's name comes from "Necronomicon", a notorious book of magic, said to have the spell that invokes the spirit of yore in Lovecraft's Cthulhu myth.
The eclectic style of NECRONOMIDOL stands out from ordinary idol groups, not only because of its almost unreadable black metal style logo but also because of its general sense of style of both members and the music, all of which have undergone some changes over the years.
The membership really has been quite turbulent over the years, which is quite common in idol performances.
The group had some mysterious members who passed the audition but left before their official debut: Kaede, Nagata Kagura, Miyano Aisha, and Maeda Rio. The list of past members goes on forever. The band's lineup today consists of Himari Tsukishiro, Nana Kamino, Meica Mochinaga, and Malin Kozakura.
Strangely enough, all of this is thanks to the group's producer and director: Ricky Wilson, an American who found his way into the Japanese female black metal scene.
PassCode
Like most Japanese groups, the information about PassCode is quite obscure. But we know that this band had its beginnings around 2013 in the city of Osaka, the hometown of all its members.
In 2013, this group was created by four girls, but throughout the same year, three of the girls left the musical project.
It began as a project that would merge rock, metal, Jpop, and EDM (Electro Dance Music), and they did the job quite successfully. Since 2014, the group was made up of Kurohara Yuri, Minami Nao, Takashima Kaede and Imada Yuna.
In August 2015, a fifth member entered: Ogami Hinako. But in October of that same year, the last founding member Kurohara Yuri left the band, leaving the group again as a quartet.
The band has been included in the world of Kawaii metal led by Babymetal thanks to its sound and aesthetics, the very beginning of combining metal with Jpop. It is one of the Kawaii metal bands with the most production releases with 5 albums, 9 singles, and 3 DVDs.
Aldious
Rami and Yoshi started the band in Osaka, Japan in June 2008. In January 2009, Toki joined the band. In November of the same year, the band made their first recording under the name Aldious: a four-song EP titled Dear Slave which was released with great success and began selling in metal record stores.
In January 2010, Aruto joined the group, followed by Sawa in March, who completed the main lineup.
At the same time, the band joined the label "Bright Star Records." In addition, the band signed a contract with Spinning Inc. The band released their first single Defended Desire in July 2010, which propelled them further into success.
As it goes, Rami and Aruto left the band, and a few others have come and gone over time as well, like Ruki, Kaze, Re:NO, and R!N. With Yoshi, Toki, and Sawa from the main lineup, Marina is the fourth current member.
Aldious has been quite productive over the years, releasing 6 studio albums, 10 video albums, 7 singles, 3 mini-albums, and 2 self-cover albums to this day. All of the work is, of course, female power metal, just like Babymetal.
GALNERYUS
GALNERYUS is a Japanese power metal band with influences from metal groups such as Dream Theater, Helloween, Sonata Arctica, Stratovarius, and X JAPAN.
The band was formed in 2001 by guitarist Syu (ex-Animetal) and Yama-B as vocalist, making it one of the pioneers of the genre. It's not a female band but the music is quite similar to Babymetal in various ways.
Syu is greatly influenced by the bands Stratovarius and Sonata Arctica. However, she says she is more in line with the style of X Japan, especially Hide whom she greatly admires.
Syu still remains with the band, along with Yuhki, Sho, Taka, and Lea. The album covers are designed by Yoshitaka Amano, a well-known Japanese graphic designer, who has contributed to the design of the Final Fantasy series and the Vampire Hunter D manga.
It is difficult to talk about their sound as being one style, as the band goes from power metal to symphonic metal, progressive metal, and neoclassical metal.
Considering that GALNERYUS could pass for a European or American metal band and in turn with a certain strong origin of Japanese metal, they are generally characterized as the perfect and faster mix of European power metal (Stratovarius, Sonata Arctica) with Japanese visual metal (X Japan, Onmyouza).
The personal contribution of Syu, who composes and arranges all the songs and solos, reaches the length and intensity of true concert work.
Bands Like Babymetal: Final Thoughts
There are so many female lead (and all-female) rock and metal bands in Japan these days, that it was hard to narrow it down to the best bands like Babymetal.
In fact, we left some amazing groups off this list, simply because they were more like standard metal bands, and not a fusion of J-Pop and metal. We wanted only true Babymetal-like bands here.
Please let us know in the comments below if we left off any bands that should have been included, or if we included any that should have been left off.
Title photo by cliqmo.