Nothing can do as much for your promotional efforts as having your own website.
The problem is most DJs have no idea how to get one set up.
I have good news: it's actually incredibly easy.
Follow these steps and you'll have your very own site up and running in under an hour.
Note: I receive a small commission when you sign up for recommended services on this page, like Bluehost, Namecheap, or Studiopress. But I recommend those companies, because I use (or used) them myself and am happy with the services they provide.
How To Make A DJ Website
Follow these steps from top to bottom and you will have your very own DJ website in just a few hours. Maybe even sooner, depending on how fast you can go through the steps.
Step 1: Choose Your Domain Name
The domain name is what people will type into the browser to reach your website. For example, the domain name of this site is: musicaroo.com.
For your site, you'll probably want to choose your DJ name, if it is available, i.e. if your name is DJ Johnny, you might choose djjohnny.com.
To see if a name is available, go to Namecheap and type your chosen domain name + the .com into the search field. It will show you if the .com is available and also if alternatives like .org or .net are available. You can also see that domain names generally cost around $10 per year. Is it worth it?
Yes, it is. You can get a website completely for free by using WordPress.com, Blogspot.com or a similar site. In that case, your site name will be (using the example from above) www.djjohnny.wordpress.com.
Also, these sites retain control of your website and they have the right to shut it down if they disagree with any of your content. Also, your ability to potentially earn money from your site will be limited.
You can always start out with a free site and switch to your own domain later, but that is a huge hassle (I did it once and ended up just paying someone $100 to do it for me). In my opinion, $10 per year is a small price to pay to have full control over your website and to have the name you want.
Speaking of the name, many people have asked me if they should go with the .org or .net, if the .com is not available. That's hard to answer.
A .com domain is definitely preferable, so try any alternative names you can come up with first. If nothing you want is available or if you really have your mind set on a certain name, go ahead and get the .org or .net. I'd stay away from any other ones for a personal DJ site.
You could buy your domain name directly from Namecheap (that's where I buy my domain names), but I'd hold off if it's your first domain.
You'll probably want to get hosting, too and a hosting account generally comes with a free domain name. It's also a lot easier if you buy both together (a LOT easier). So don't buy anything yet and just head to the next step.
Yes, this will cost you more money. It doesn't have to, though. There are free hosting options available.
Is free hosting any good?
It really depends what you want. If you just want to get a site up for now, a free host is fine. I stay away from them because they are notoriously unreliable, so there will be a lot of downtime, making your site inaccessible.
Even worse in my opinion, they will use your site to post advertisements. This not only limits your own ability to make money from ads at some point down the road, but can also leave a bad impression on your visitors, depending on what is being advertised.
If you simply don't have the money for hosting at this point, start with a free host. You can always transfer your site to a paid host at a later date. You may have heard that this process can be a huge pain in the ass. That's true, but most hosts want your business, so they will be happy to help you out with this for free.
If you'd rather not deal with any of that, there's good news. Basic hosting accounts (which is all you need for now) are only a few dollars per month and they include a free domain name, so you can save $10 on that, too.
My Favorite Host
I have several sites and use several different hosts. My favorite is Bluehost. They are very reliable (little downtime) and have great customer service.
More important for our purposes, they offer a simple one-click install for the WordPress software, which is the easiest way to create a website. It's also free. See below for screenshots of the signup process and the WordPress setup.
Bluehost is slightly more expensive than the cheapest hosts, but this link will get you a discount on their hosting accounts (with a free domain). They are also more reliable than the cheapest hosting companies and they are well-known for having excellent customer service.
Here is the signup process for Bluehost:

First enter your chosen domain name into this field. If you have already purchased a domain elsewhere, enter it in the second box that says, "I have a domain name."
On the next screen fill in your personal information. Then you'll come to this: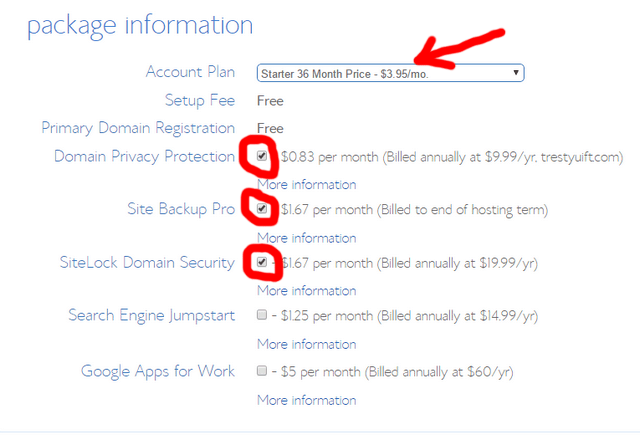 Choose your account plan here. The longer the sign-up period, the less you pay per month, but the larger your upfront payment. Choose whatever you feel most comfortable with.
Make sure you uncheck any extras you don't want. Personally, I never get any of them. You can always add them later if you change your mind. I have never changed my mind and I doubt you will either. Save your money. You don't need these.
Fill in your credit card information and submit everything. That's it, you have working domain and a webhost. You are now ready to set up WordPress (i.e. build your site).
If you purchased your domain elsewhere, you'll now have to go through the (somewhat complicated) process of transferring it first. This can take a day or two. Bluehost will help you with this.
Step 3: Set Up WordPress
This is very simple to do if you have a hosting account with Bluehost:
Under the 'Hosting' menu and the 'cPanel' tab, you will see a section titled 'Website Builders.' Click on WordPress. That's basically it. Follow the on-screen instructions and your website will be ready in a couple of minutes!
If your webhost does not offer one-click install or you would simply like to go through the process on your own, you can follow the steps here. It can be a bit complicated, if you don't know what you're doing, which is why I recommend using the free Bluehost website builder.
Step 4: Choose A Theme
The theme determines the look of your site. WordPress comes with several free themes and one of those will be activated already.
To see what it looks like, in your WordPress Dashboard (the page you will be on after logging in in the last step) move your mouse over the little house icon at the top left of the screen. 'Visit site' will pop up. Click on this to see your site. Even better, right-click on it and select 'Open Link in New Tab.' This way you can switch between tabs to see the changes in your site when you change themes.
Free Themes
If you like the way the site looks, that's great! You're done with this step. Most likely, though, you'll want a different look.
Find 'Appearance' on the menu on the left-hand side and hover over it with your mouse. Select 'Themes.' This will bring up a screen with the pre-installed free themes. You can try several of them out by hovering over them and selecting 'Live Preview.'
In my opinion, none of these themes make for a good DJ site. At the top of the screen, you will see a small box that says 'Add New.' Click on that to bring up a screen with hundreds of other free themes. You should be able to find a theme you like here. Just hover over them and click 'Preview' to see what they look like.
If you like a theme, hover over it and select 'Install.' Once it has finished installing, click on 'Activate' and your site will be ready. Switch over to the tab with your site in it and hit refresh to see what it looks like with your new theme.
Premium Themes
You might have heard that it's better to go with a premium theme. Most of them are not that expensive and they have the huge advantage that they offer support to help you out with any questions or problems. Free themes don't do that. Premium themes also generally look better.
Personally, I always start with a free theme and end up switching later. It's not too hard to switch, but there can be some problems with all of your content still looking the way you want it to after a switch. I'd say, if you have the money, go ahead and get a premium theme from the beginning. If not, you'll be fine with a free theme.
My favorite premium themes are the ones from Studiopress. Their basic framework is called Genesis and that is all you need to get a site up. That said, I like to get one of their actual themes, too.
That way I don't have to worry about doing any extra customizations. This site is built using the Magazine Pro theme from Studiopress.
To make your life much easier, I recommend just getting one of their ready-made themes, too. Unfortunately, they only have 40 or so at the moment. If you see one you like, great!
If not, try Elegant Themes or Themeforest. Both have a much larger selection of great themes and they are not expensive. You should be able to find something there.
I prefer Studiopress because of how customizable the Genesis framework is. I also like their excellent support system, but you'll get great support from the other two providers as well.
Step 5: Create Your First Page
Now that you've chosen the look of your website, it's time to get the first page set up. First, hover your mouse over 'Settings' in the left-hand menu and select 'General Settings.' You will come to this screen:
See what it says under 'Site Title' and 'Tagline.' This might already be good, but if not, fill in the name of your site and your tagline. When done, scroll to the bottom of the page and click on 'Save Changes.'
Next, move your mouse over 'Pages' in the left-hand menu and select 'Add New.' That will take you to this screen:
The page you are creating now will be you home page, i.e. the first page a visitor to your site will see. Enter the page title in the space underlined in the photo above. You can call it 'Home' or 'Welcome!' or anything you want. This will show up at the top of your page.
In the large blank space below, put whatever you want on your first page. For now, I'd just introduce yourself and your music briefly.
If you have a video of you DJing up on Youtube, you can simply paste the URL in the space and the video will automatically appear on your page. This is a great way to introduce yourself.
When you are finished, click the blue 'Publish' button on the right. Now you will see an option at the top that says 'View your page.' Click on that to, you guessed it, view your page.
You can always make changes to your page by clicking on the 'Edit page' option in the black bar at the top of the screen when you are viewing your page (note: you have to be logged into WordPress to see this black bar).
Now let's create a second page. Do you remember how to do it? 'Pages' then 'Add New.'
Call this page 'Blog.' Leave everything else blank and just hit publish.
If you choose to write any blog posts (hover over 'Posts' in the left-hand menu and choose 'Add New'), they will automatically appear in order from the newest to the oldest on this page. You don't have to name this page 'Blog' if you don't want to. You can call it 'News' or whatever.
One more step. Hover your mouse over 'Settings' in the left-hand menu and select 'Reading.' You will come to this screen:
Click on the circle next to 'static page' (circled in red above). This changes your front page from being the blog page to being the page you created above. If you want your front page to be a blog page, ignore this step, but for a DJ website it doesn't make much sense.
In the 'Front page' box, select the page you created above. In the 'Posts page' box, select 'blog' or whatever you called your blog page above. Scroll to the bottom and click on 'Save changes.' And you're done! That wasn't too difficult, was it?
Make Your Own DJ Website: Final Thoughts
Naturally, you'll probably want to add more pages in the future and perhaps even post regular entries on your blog page to keep your fans up to date. But for now, sit back and have a beer (or a tea). You've just created a brand-new website from scratch!