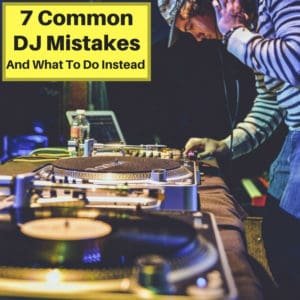 Mistakes are vital to improvement.
Chances are, at some point you've made a painfully embarrassing error in one of your DJ sets.
Maybe you switched to the next song too soon.
Or maybe you left it too late and had to deal with an awkward silence (so awkward!).
Or you could be lucky enough to have never humiliated yourself in front of a crowd full of partygoers.
Either way, I'm here to bring to light some classic mistakes that DJs make, so that you don't have to make them.
Yes, mistakes are great for learning, but learning from someone else's mistakes and improving as a DJ without making them yourself is so much better!
7 Common DJ Mistakes Beginning DJs Make
Here are the 7 most common mistakes beginning DJs make. Perhaps you have made them yourself already. Hopefully you never repeat them. And if you haven't made them, hopefully this list will help you avoid ever making these DJ mistakes.
1. Not Researching Your Audience
Avoid this mistake and you are pretty much halfway to a decent set! You need to know what your audience likes in order for your set to be a success. The last thing you want is people coming up to you and asking you to change the song because they don't like it. If you're not playing for your crowd, then who are you playing for?
What to do instead
Don't be shy to ask the company that has hired you questions. "What age range am I playing to?" "What style of event is it?" Even do a little bit of research on your own. Here's a few things you can do:
Check out some YouTube videos of DJ sets at similar events.
Social media research: Type in one or two keywords on Twitter that relate to the age range/style for whom you are playing. You might find some twitter users tweeting about what artists and songs they like! Check out Keyhole, a brilliant way of tracking hashtags and keywords on Twitter.
If you feel under-prepared or you're really not sure, the best thing you can do is to play a whole variety of music; Rock, Country, 80's Dance, RnB, Hip Hop, Noughties chart toppers, and more recent hits. There will be something in there for everyone.
2. Not Being Open To Spontaneity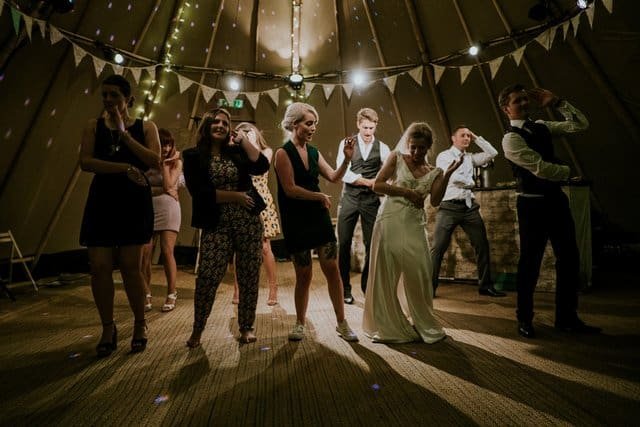 Researching your audience and creating a killer, organised set is the sign of a good DJ.
Being spontaneous on the night and playing to what your audience want in the moment, however, is the sign of a great DJ.
If you stick rigidly to your techno electronic set when people are crying out for some Beyoncé, then all your preparation and hard work will be for nothing! You are playing for your crowd, not yourself, so always remember to give them what they want.
What to do instead
Alongside your planned set, create a roster of other popular songs that you think people might request. This can be a mix of everything. At some point in the night, someone will want to sing their heart out to Mr Brightside by The Killers, or dance to Never Too Much by Luther Vandross. So mix it up! The crowd will love you for it.
3. Giving In To Far Too Many Requests
There's a delicately fine line between spontaneously playing what your crowd want to hear in the moment, and playing every single request. If you start giving in to every song suggestion, your songs won't blend together at all. Rihanna followed by Guns 'N' Roses? That transition is the stuff of nightmares!
You were hired as a DJ because the company likes your music and your mixes. So try not to neglect them.
What to do instead
Create a playlist in your DJ software where you can take requests. This will allow you to take a quick glance and arrange the tracks in your preferred order without too much hassle.
Bring a hype man. If you're being hassled all night with requests, bring a friend along who can take requests, rather than letting yourself be distracted time after time by partygoers.
4. Dropping Bangers Too Early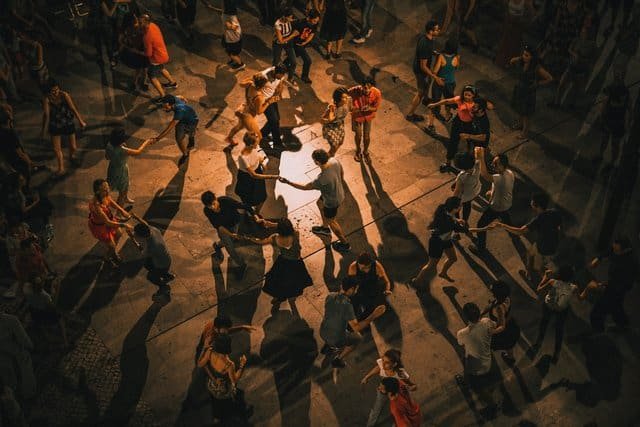 Queuing up your best songs within the first 20 minutes of your set is a very common mistake among DJs, especially when no one is dancing just yet. Keep in mind that your crowd might need warming up first.
What to do instead
Start off with some mood setters: play a few tracks that you know your crowd will know. That way, you can begin to earn their trust and they will be more likely to dance to your music a little later. Are people head bobbing? Is there a small group heading to the dance floor? Turn it up a notch, literally. Crank the volume up slightly.
When the dance floor is full, that's your time to bring out the bangers.
5. Overly Relying On The Venue's Equipment
Many places that you DJ at should have their own basic PA system for you to use; speakers, microphones, jack leads, XLRs etc. This will leave you the responsibility of bringing your own decks, MIDI setups, laptop(s), mixers, controllers and any other equipment you might need. Sounds easy, right?
What to do instead
Let me ask you this question: Do you trust the equipment they supply? Have you used it before? If you're answering no to these questions, I highly recommend you try and bring your own backup jack leads, XLRs and microphones in the event that theirs fails.
You may never have experienced this problem, but unfortunately it's bound to happen at least once if you're DJing regularly. So be prepared just in case!
6. Failing To Beat Match Your Tracks
There are many DJing mistakes that you can just about get away with, without anyone noticing. Failing to beat match your tracks, however, is not one of them.
If you've not heard the term "beat matching" before, it refers to the technique of either pitch shifting or time stretching your next track, so that it matches your current track.
Failing to do this can really cause you to fall flat on your face. Your songs won't match up in any way, shape or form and, worst of all, it's a mistake that everybody will notice!
What to do instead
Luckily, modern technology has made it simple for DJs like you to beat match with ease. Widely-used DJ software DJay Pro includes the beat matching feature in its programe, and you can download a free trial here.
There's a quick tutorial on beat matching in this post on learning to DJ. I've also included the video below that shows you exactly how to beat match effectively.
7. Failing To Learn From Your Mistakes
It might sound a bit cliché, but I can't stress enough how important it is that you consistently learn from what you are doing wrong, and find new ways to improve from them. This is how you can move from being great, to being at the top of your game.
What to do instead
Make notes of things you do wrong. Practice and practice the parts of your set that need improving. Watch tutorials on YouTube. Talk to other DJs in the music community and ask for advice. If you work hard every day to raise your game, the only way you can go is up.
DJ Mistakes: Final Thoughts
So there we have it: The top 7 mistakes you want to avoid when DJing, plus what to do instead. You should now be fully equipped to take that crucial step forward in your DJ career. Being able to identify mistakes and learn from them is what will take you up that level!
Do you know a friend that has made these mistakes? Share the article with them and offer some advice on how they can improve.
Can you think of any more top mistakes that DJs tend to make? Let us know in the comments section below!